The City's Battered, Beloved Park Animals Retire to Queens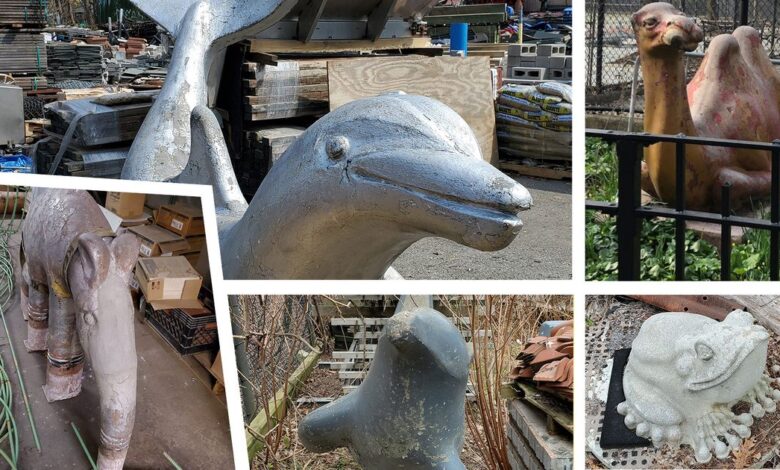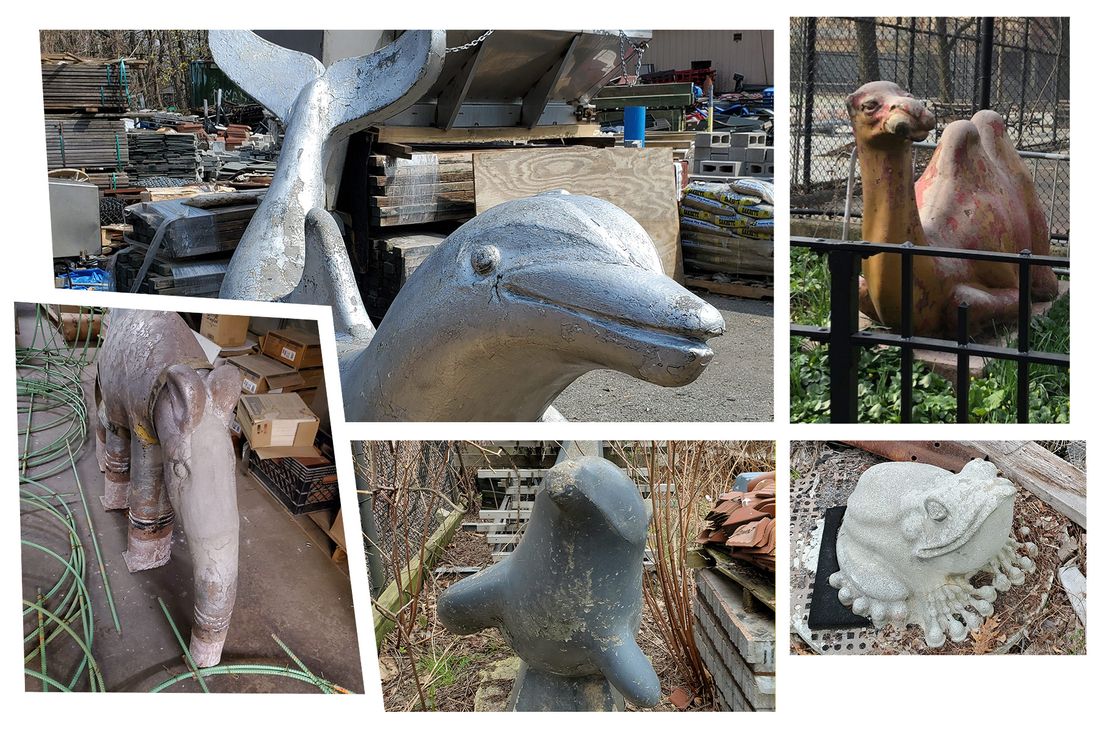 These five animals will be the first residents of the "NYC Parks Home for Retired Playground Animals" in Queens.
Photo: NYC Parks
This fall, a camel, an aardvark, a frog and two dolphins move into a new retirement community in Queens. The sculpture menagerie has served in the city's playgrounds for decades and has endured the hard love of countless children. These five animals, removed from the playgrounds during renovations, will be the first to begin living their golden years in the new "NYC Parks Home for Retired Playground Animals" at Flushing Meadows Corona Park. The crumbling creatures, some of whom have had their paintings stripped of years of play, will sit in a new sculpture garden transformed into a grove just north of the Unisphere that the Parks Department describes as "a contemplative space for children. animal retirees and their visitors. appreciate. "No more climbing will be allowed -" They've had enough, "explains a model of the signage.
If you grew up in New York or raised kids here, the hundreds of animal statues dotted around city parks are likely to be in your playground memories. Since the 1980s, they have been an integral part of the system – this are toys, landmarks, backdrops for birthdays and picnics. In many cases, neighborhood parks are known as the animals that reside there. (Turtle Playground in Flushing has lime-green mid-century modern turtles.) But over the decades, many miniatures have been scrapped and discarded to make way for new play equipment and accessibility features. Now, instead of being reduced to rubble, these statues will join the new retirement home, currently under review by local community councils. In the years to come, as new retirees arrive, this shady corner of Flushing Meadows may be the only place in town where these beloved animals can still be seen – and where the most enduring legacy of the old one. Parks Commissioner Henry J. Stern will also be retired. .
Stern – who ran the Parks Department from 1983 to 1990 and again from 1994 to 2000 – was a very public eccentric, and he was fascinated by animals, both living and figurative. (Stern died in 2019, aged 83.) His golden retriever, Boomer, often accompanied him on official park affairs. As Stern drove through town, he craned his neck to marvel at the stone creatures carved on the facades and corbel as it passed. He even founded the somewhat ironic American Association for the Advancement and Appreciation of Animals in Art and Architecture – the 7A, for short – which sometimes organized group tours to structures adorned with animals. through the city. During the years he oversaw the New York City Parks and Recreation Department, under the leadership of Mayors Koch and Giuliani, Stern turned his obsession into a mandate: Park designers were tasked with including animal art. in every new and renovated playground and park in the city.
Sometimes it was a simple touch, like hoof prints carved into concrete or mammal mosaics on tiled walls. But more often it was a kind of playful sculpture. Elephants of the Upper East Side. Bear at Bay Ridge. Sea lions in Long Island City. Adrian Benepe, who worked with Stern and was commissioner of the parks department under Mayor Bloomberg, said it was Stern's "eccentric love" for animals in the built environment that fueled his mission to share. that art with young New Yorkers in parks, and a desire to give children as much exposure as possible to animals. "Previously there were more opportunities to see wild animals, so I think that was part of Stern's MO as well: We remove animals from zoos and circuses, but we can keep their memory alive for children in parks," he said.
The city's acquisition of park animal art really picked up during Stern's second term, under Giuliani. Between 1994 and 1996 only, 300 concrete critters and other animal works were added to city parks at a cost of $ 300,000. (Today, there are about 100 of those animals left.) But as Stern began to spend more and more taxpayer money on decorative animals, some elected officials openly questioned whether this was the best use for it. taxpayer money. For example, a single bronze coyote placed in Van Cortlandt Park in 1997 cost a whopping $ 20,000 – money that could have been used for more prosaic needs of the park, such as repairing broken swings and broken park benches. At times, animal art could feel forced, like three Dalmatian silhouettes meant to be a memorial for firefighter Louis Valentino in Carroll Park – which seemed so over the top that the plan was rejected by public design officials. It didn't seem to matter to Stern, as long as an animal was somewhere.
And Stern's biggest opposition was the New York City Art Commission (now known as the Public Design Commission), which examines designs for municipal works like park projects. Michele Bogart, who was curator from 1999 to 2003, says he opposed many of Stern's projects not because of the price but because the statues were mostly generic catalog items that lacked a meaningful connection to the parks. in which they were placed. But in order to comply with Stern's Animal Art Decree, officials often put these sculptures in parks with ridiculous arguments as to why a certain piece was appropriate – a practice that Bogart and other members of the commission deemed it offensive. A project manager proposed a 20-foot-tall bison for Greeley Square in Midtown simply because it was Horace Greeley who coined the slogan "go west, young man." On another occasion, park officials offered to set up a mail-order group of Holstein cows near a reconstruction of a concession stand in Flushing Meadow Park because Borden's Milk pavilion occupied the spot during the World's Fair. of 1939. (Bogart chronicled these and other extravagant examples in his book The politics of urban beauty.) "We were banging our heads every time this material came in and we regularly disapproved of these components because they were cheap and they were really disrespectful, in our opinion, to the community," she said. declared. Bogart once found herself recessed under her desk during a committee meeting when officials offered to put chicken and pork footprints at a park in the West Farms neighborhood of the Bronx. She couldn't control his incredulous laugh.
But if the commission thought Stern was being ridiculous, he didn't seem to really care. In 1999, the city offered a refresh of Seward Park on the Lower East Side that included a bronze statue of a Siberian husky named Togo, one of two dogs responsible for the 1925 draw to bring anti-diphtheria serum to Nome, Alaska. Park officials have argued that the park's namesake, William Henry Seward, who negotiated the US purchase of Alaska, gave it a connection to the state, and therefore to Togo. The artistic commission did not buy it and cut the statue down. A few years later, when Bogart visited the newly renovated space, she discovered Togo in the bushes. "They stuck this dog next to a fence in the greenery just for him to sit there; it wasn't even in a place where the kids could play, "she said.
It wasn't that Stern wanted nothing but animals and the art commission didn't want them at all. And by no means were all of the sculptures mail order pieces with no real provenance. There are 14 beloved fiberglass hippos in a Riverside Park playground that were created by sculptor Bob Cassilly Jr. in 1993. Three bronze bears are the focal point of Ruth and Arthur Smadbeck-Heckscher East Playground in Central Park – a 1990 work by Art Deco sculptor Paul Manship, who is best known for Prometheus in Rockefeller Center. The commission was more on board for such projects, which they felt had real merit. "What we were saying all the time is why can't you have fewer works, but have very good ones? Really memorable? Said Bogart. "And that just wasn't part of the game plan."
The home's very need for retired playground animals makes it clear that these mail order catalog pieces were not built to last. Nonetheless, Bogart is encouraged that the city is finding a way to reuse the animals instead of completely scrapping them – even if they want them to touch them up before moving them to the new park. "I'm glad they recognize the initial problem. It's making lemons with lemonade, "she says.
For city children, it doesn't matter who designed a statue or whether it is particularly well made or not. The right statue is the one that is in the neighborhood park, no matter how it got there. Every kid in this town remembers triumphantly climbing one of them – to me it's the dolphin in the sandbox at Cobble Hill Park, five blocks from where I am. grew up. In that sense, Stern won: Animals are now part of the New York vernacular design, and now that they're so entrenched, they can't be removed without an uproar. "The point is that children love them and playgrounds take on a special character because of the animals they contain," said Benepe. "Some thought they were kitsch. But Stern was just like, 'Who cares? It's an animal; they are children. They just have magic going for them.