The Financial Pros & Cons of Renting in Small Metros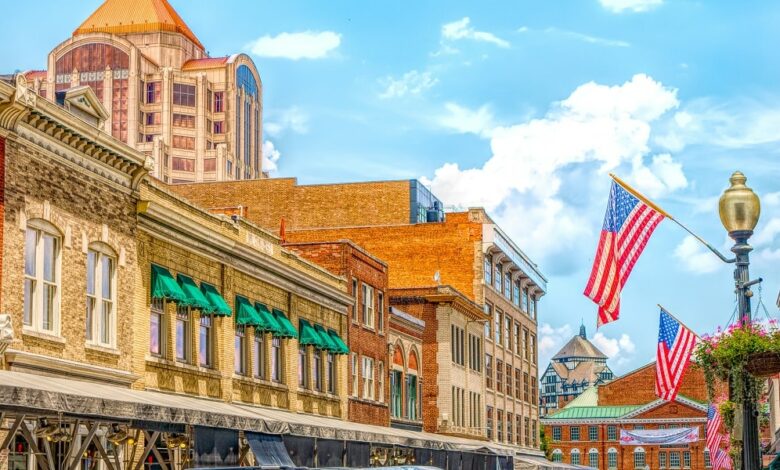 According to the most recent RentCafe year-end report, which captured the development of the rental market for the past year, renters preferred outdoor-friendly, small- and mid-sized metros in 2021. Curious about the different implications of this trend, especially on personal finances, we wanted to further explore reasons for this shift from the big city life to the more tranquil communities.
To explore how renting in a small metro makes a difference in our wallets, we asked finance experts and professors to weigh in on the pros and cons of moving to a smaller city. Their opinions touched upon housing availability, access to and the cost of commuting options, and generational factors driving this trend.
What are the benefits of renting in a small/mid-sized metro in terms of costs?
"A smaller sized metro tends to be a bit more accessible, but with similar amenities including good restaurants, parks, and better schools. With less traffic and availability of good commuting options (including express lanes) it is also possible to easily access the larger metro areas as more employees return from remote work or begin going into their offices a few times a week."
"According to the Joint Center for Housing Studies of Harvard University's 2020 report on America's Rental Housing, the availability of rental units in the US is vastly limited which drives up the cost of rental housing. Furthermore, with rental housing now more common among age groups and family types that traditionally would seek homeownership, the inventory for low-cost rental units is low to nonexistent. This makes renting in small to medium-sized metropolitan areas more attractive as compared to renting in large metropolitan areas.
The benefits [for renting in small to medium-sized metropolitan areas] include lower costs for more space for rental units that often are surrounded by more greenspace. Small to medium-sized metropolitan areas offer closer proximity to work with attractive social and cultural amenities. They have less crowding, congestion, and crime as compared to large metropolitan areas. For many, smaller to medium-sized metropolitan areas offer a better quality of life."
"Here are a few benefits you can enjoy if you rent in a small/mid-sized metro.
Renting is relatively cheaper

: Since living costs are comparatively lower in small/mid-sized metro cities than in large metropolitan cities, renting an apartment or a house in a small-sized metro is cheaper, and you can likely get a bigger apartment at a lower cost.

Less demand in small/mid-cities:

In small cities, the demand for housing is comparatively lower, so you don't have to worry about entering a very competitive market. In larger cities, the need for housing is much more poignant.

Save more dollars: You can save more, especially if you have a high-paying job. Despite living in a small-sized metro, you may earn more if you have a good job. Since the cost of living is much less, you can deposit more towards your retirement fund and pay-off debts.
Lower home insurance rates:

If you live in a small/mid-sized metro with a lower crime rate, you'll save on home insurance rates. Usually, the small towns have lower theft and crime rates, so the insurance premium costs are lower."
What are the disadvantages of renting in a small/mid-sized metro compared to a large one? Are there any financial disadvantages?
"The disadvantages of this decision can appear if employers begin requiring their employees to return to the office full time, as some would need to handle childcare and schooling in districts far from work. Financial may arise if the employees are forced difficulties to quit better paying jobs that are available in the larger metro areas."
"The major financial disadvantage for renting in a small to a medium-sized metropolitan area is higher prices for rental units stemming from more competition because of limited rental housing supply. Larger metropolitan areas may offer more options for rental units, although rental pricing may be higher or unit size may be smaller. Rental units in suburban areas may be more affordable, but limited transit options to get to jobs or social amenities will increase the overall cost of living expenses."
"There are a few disadvantages of renting in a small/mid-sized metro compared to a large one.
Lower job opportunities: Along with a smaller employment pool, t

he salary in a small-sized city may also be lower than in a large city for similar work. If you want to live near your office, although the renting prices are relatively lower, you may not find a suitable apartment to also fit your budget. If you work remotely, however, the situation might be in your favor.

Need to have a car:

Usually, in small/mid-sized metros, you'll have to own a vehicle. So, you will have to pay more on gas if your office is far and you have to commute a significant distance daily. And, you may have to pay more on car insurance rates if the city is prone to natural disasters.

"
What are the financial pros and cons of renting in a large metro?
"The only financial pro is proximity to work, which means cheaper commuting costs. The most significant cost is that rents are much higher. Rental price increases (inflationary pressures) on real estate in larger metro areas may also be higher than in the suburbs. Also discount warehouses and inexpensive shopping may be harder to find."
"The significant pro for renting in a large metropolitan area is more options for rental units, job opportunities, modes of transit, and a wide range of social and cultural amenities. So, you will more likely find some rental option either solo or with roommates that fits your budget and lifestyle. The con of living in large metropolitan areas is there is a cost for convenience and size. Rental units near the city center or commercial hubs will cost more and be smaller, as more people, businesses, and other commerce are attracted to those areas."
"Pros:
More options to choose from:

You have more apartments and houses to choose from in a large metro. Therefore, you can compare the prices against the amenities offered, and choose an affordable apartment that fits your budget.

Can rent a house far from the office:

Usually, public transportation is good in large metro cities. Therefore, you can switch to work easily even if you do not own a vehicle. By doing so, you can also save on the cost of purchasing a car.
Cons:
Spend more on gas if you drive your car to work:

Yes, it can be a disadvantage if you live far and drive daily to work. You may have to pay more insurance, too.

Renting cost is relatively higher

."
When looking at the long-term picture, which one makes more financial sense: renting in a small, mid-sized, or large metro?
"If one rents and saves the difference in order to eventually buy a home in the suburbs/smaller metro, consumers will be better off financially in the long run. Because they are already settled with schooling and amenities, they may also be more enticed to live in the smaller metro areas."
"From the discussion, it seems that renting in a small/mid-sized metro is more affordable. By doing so, you can have more dollars in hand to pay off debt, save for retirement, invest for a better return, and so on."