The Most Competitive Rental Markets in 2022: Miami Is Red Hot, While Competition in the Northeast Intensifies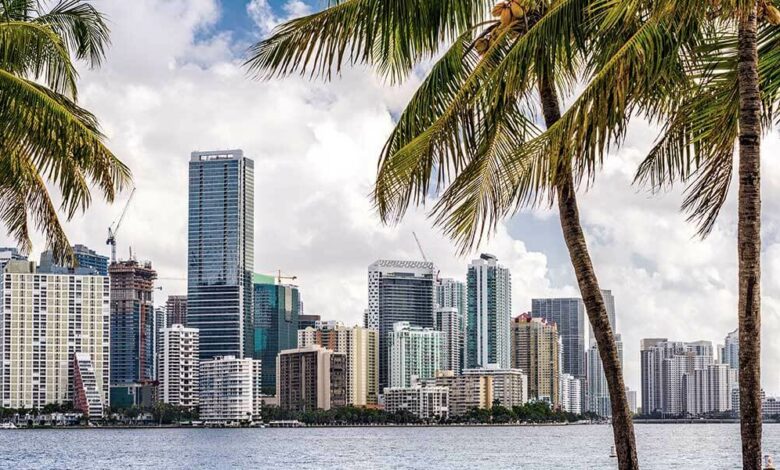 Highlights:
As the nation is buzzing with renting activity, we're ranking the most competitive apartment markets in the first half of 2022
South and Central Florida are red hot when it comes to finding a rental, followed by mid-sized markets in the Northeast
Miami-Dade County is the nation's most competitive apartment market in 2022, bolstering Florida's big appeal to renters
Orange County is the most sought-after renting spot in California, while Eastern Los Angeles lags far behind
A large influx of newcomers seeking warm weather and looser restrictions during the pandemic, topped off by a wave of remote workers, has turned Florida into the most sought-after region by renters in 2022. Specifically, Miami-Dade County is now the hottest rental market in the nation, as the demand for apartments in Southern Florida is stronger than ever, putting apartment seekers in a tight spot to find a new place to call home, due to high occupancy, low supply, and record-high lease renewal rates.
To rank the hottest rental markets, we looked at the 100 largest markets in the U.S. where data was available, analyzing five revealing metrics when it comes to competitivity:
how many days rentals were vacant
what percentage of apartments were occupied
how many prospective renters competed for apartments
what percentage of renters renewed their leases
the share of new apartments completed
We found that South and Central Florida are the most in-demand markets, alongside certain small and mid-sized markets in the Northeastern region. While some renters are moving from one area to another — all the while pushing demand — others are choosing to stay put rather than go through the ordeal of hunting for an apartment, which makes the competition for the existing stock of vacant apartments even more fierce.
The paradox of this year's market condition is that even metros such as Miami or Orlando, which have built significantly in the past years, are struggling to keep up with an influx of renters. Meanwhile, areas lacking new apartments, such as Harrisburg, PA, are even more prone to see surging competition among renters. On top of that, rising home prices and mortgage rates keep would-be homebuyers in the rental market, which is one reason we're seeing record-high occupancy rates in apartment buildings nationwide.
Competition intensifies as more renters opt to stay put amid a tight housing market
On a national level, U.S. apartments that became vacant were filled within 35 days on average in the first part of 2022, with 14 renters competing for one apartment to secure a lease. More so, 95.5% of rentals were occupied during the same time period, especially as almost two-thirds of renters opted to renew their leases rather than move into a new apartment or become homeowners. And with the number of newly opened apartments accounting for just 0.7% of the total housing supply, finding a new rental is becoming more difficult these days.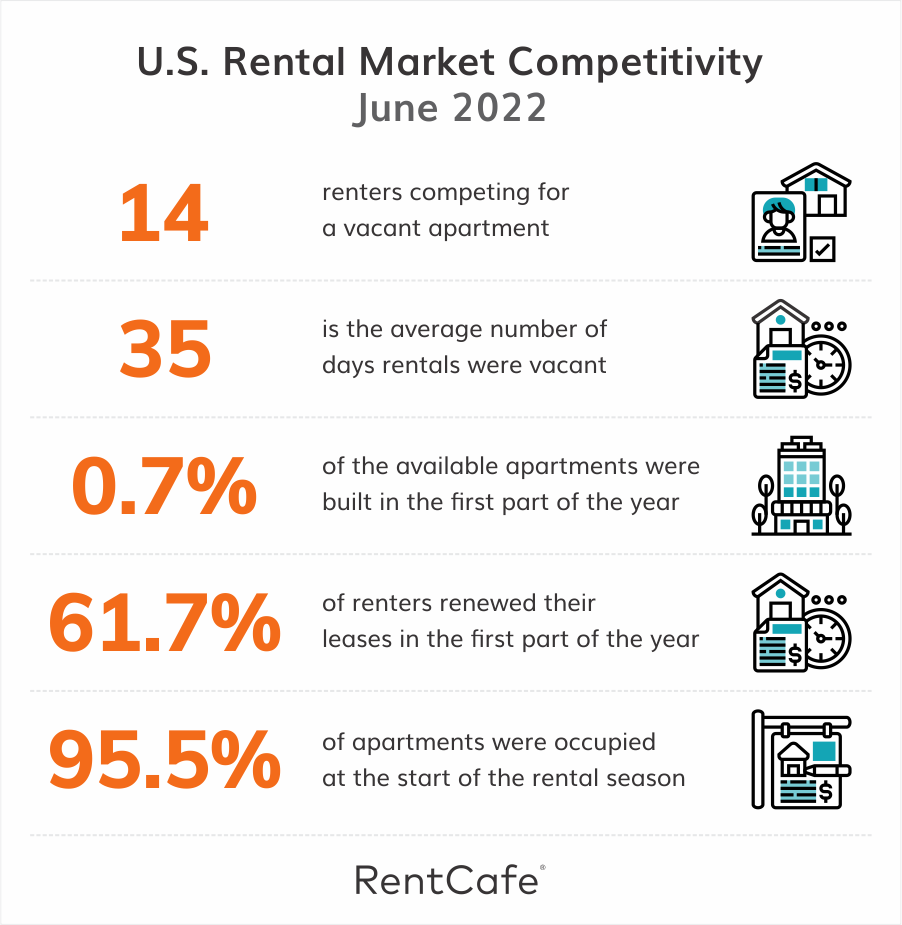 Riding the wave of migration to Florida during and after the pandemic, Miami-Dade County emerged as the hottest renter hub at the start of the 2022 rental season. South Florida's appeal to renters from New York and other places relies heavily on the growing number of tech and finance businesses that are present here, on top of the long-time incentives like good weather and low taxes.
In addition, more and more house hunters are starting to feel the strain of surging inflation and mortgage rates. As a result, they are delaying or completely giving up on their dream to become homeowners, which puts even more pressure on the apartment market. Furthermore, those choosing to settle here from outside of the Miami-Dade area are facing a double challenge: an overheating for-sale housing market and an ultra-competitive rental landscape.
According to Yardi Matrix data, the number of apartments in Miami-Dade County grew by 1.8% between January and April. That's the highest growth in new rentals among the top 20 cities in our ranking — but still not enough to accommodate the soaring demand in the Magic City, especially since three-quarters of the apartment dwellers decided to renew their leases during the first four months of the year. With almost all apartments occupied, a whopping 31 renters competed for a vacant unit, and it only took 27 days on average for a rental to be occupied.
Harrisburg, PA is the second most competitive rental market in the U.S., otherwise known as a peaceful, history-packed city that's very popular with outdoor enthusiasts and families raising children. Perhaps one of the best things about renting in Harrisburg is being just a couple of hours away from Philadelphia, Washington, D.C., and New York City (as well as a short drive from the chocolate paradise in nearby Hershey). Unfortunately, no new apartments were opened between January and April in Harrisburg, prompting about 75% of renters to stay in their existing apartments, creating a highly competitive environment for anyone seeking to find rent. As a consequence, the average rental unit was filled in just 36 days, and as many as 19 renters competed for an apartment here.
Florida renters face fierce competition as apartments get harder to find
The housing market is sizzling throughout the entire U.S., but Florida is the nation's most competitive region when it comes to renting, with three metros occupying the top five spots in our ranking. Sure, the Sunshine State also has a reputation for being a top retirement spot, but the majority of renters in these highly sought-after markets are of working age.
Orlando apartments are in high demand with renters, claiming the third place in the ranking, and for good reason: It offers a great combination of countless entertainment options and a more laid-back lifestyle compared to gateway cities. Plus, the recovering hospitality industry and the thriving entrepreneur scene have been attracting lots of newcomers looking for good job opportunities. This influx of renters is likely to continue over the next several years, partly due to Brightline's 170-mile rail line extension to Orlando.
Just like its neighbor to the south, Orlando is far from meeting the growing demand for housing, despite an increase of 1.5% in the total number of apartments compared to the end of 2021. As a result, only a quarter of the renters decided to move into a new apartment. With 3% of the rentals available, it took an average of 30 days for an apartment to be filled, with as many as 22 renters competing to secure a lease for that place.
Boasting a relatively high standard of living, Southwest Florida is the fourth most competitive rental market in the U.S. This corner of Florida is home to many welcoming cities, including Fort Myers, Sarasota, Cape Coral, Bradenton, Port Charlotte and Venice, all of which are great renting spots for people of all ages. Many of these locations have seen some of the highest shares of inbound migration in the past year, according to the latest Census population estimates.
The area was a top retirement and vacation spot up until recently when it started shifting its focus to creating a thriving business scene, largely due to friendly tax incentives. Many companies have already chosen to open up shop or expand in Southwest Florida, bringing along lots of employees. It helps that unemployment is well below the national average of 3.6%, but the need for housing has never been higher.
With very few apartments opened between January and April, Southwest Florida is still not ready to accommodate this influx of renters. To make things even more challenging for apartment seekers, 72% of Southwest Florida renters stayed put in the first part of the year. The average vacant unit in the area was filled in just 30 days, and no less than 20 renters competed for an apartment here.
Not everybody can move to Florida, so renting in the Northeast is the next best
Fueled by the need for more living space since the start of the pandemic, North Jersey has welcomed a lot of working-from-home renters coming from crammed urban clusters, mostly New York City. For example, Jersey City has become a magnet for renters — particularly Millennials — coming from across the Hudson River due to a combination of better job opportunities and larger apartments that fit their budgets.
Other hot spots for renting in North Jersey include Hoboken (which almost feels like renting in Manhattan but without the financial burden), Newark (where many would-buy renters are delaying their plans), Paramus (which is more like a bedroom community of New York City), and Englewood (a friendly suburb of the Big Apple that's more affordable to live in).
North Jersey's appeal when it comes to renting is reflected by the high occupancy (97.1%), especially as very few apartments were built between January and April. Similar to other markets in our ranking, three-quarters of those renting in North Jersey opted to renew their leases amid an ever-competitive housing landscape. On average, it took 35 days for a North Jersey apartment to get snatched, with as many as 20 renters competing for one.
Similarly, Rochester, NY, Central Jersey and suburban Philadelphia are attractive Northeastern locations where the race for a new rental place has become fierce.
Midwestern markets are getting hotter too
Florida and the Northeast are not the only regions with highly competitive markets. Certain locations in the Midwest are in the top 20 positions, including Grand Rapids, MI, Milwaukee, WI, Omaha, NE, and suburban Chicago.
Grand Rapids has seen a rise in popularity as lots of remote workers started moving back home from gateway cities in California and Texas, and from nearby Detroit and Chicago in search of affordable living. Grand Rapids is consistently ranked as one of the nation's fastest-growing economies (the unemployment rate here is below the national average), and its strength relies heavily on the growing health care sector: The area known as Medical Mile has been expanding steadily over the past several years, attracting lots of related businesses and skilled professionals.
That said, securing an apartment in Grand Rapids will require some effort. With only a few units built in the first four months of 2022, almost all rentals are occupied. The average vacant unit was filled in 32 days, and 18 prospective renters competed for an apartment here.
Orange County is the most sought-after rental market in SoCal
Los Angeles renters looking for apartments that would better fit their budgets found solace in nearby Orange County, which turned it into California's most competitive rental market. It's easy to see why Orange County is attractive for apartment seekers: a more relaxed lifestyle, cheaper entertainment and, most importantly, a thriving economy with better job opportunities.
Besides tourism, which remains one of the economic drivers, many Fortune 500 and 1000 call Orange County home, making the area highly desirable for skilled professionals.
On that same note, rental markets in Southern and Central California are getting hotter, largely due to the e-commerce and warehousing boom. Coupled with the cost advantage of living inland as opposed to coastal California cities, many renters seek better deals in Central Valley and the Inland Empire.
At the same time, it's getting harder for renters to find available apartments in San Diego, while would-be buyers choose to delay their plans, which puts even more pressure on this rental market.
Fayetteville, AR is the most competitive among small rental markets
Southern markets are also in very high demand when it comes to renting in metro areas that have less than 20,000 rental apartments. To that extent, the under-supplied Fayetteville, AR is the most competitive small market. Fueled by Walmart's huge footprint in northwest Arkansas, the city has seen a job boom during the past several years, but the growing number of renters have extremely limited options to choose from.
In addition, almost 80% of the renters who were lucky enough to secure an apartment in the past decided not to move in the first part of the year. As a result, Fayetteville apartments get snatched in two weeks, with no less than 22 people competing for a rental here.
And while renters face tough competition for apartments in cities like Madison, WI and Fort Wayne, IN in the Midwest or Lehigh Valley, PA and Providence, RI in the Northeast, small cities in the South dominate the list of the hottest small rental markets with less than 20,000 units.
Methodology
RentCafe.com is a nationwide apartment search website that enables renters to easily find apartments and houses for rent throughout the U.S.
To compile this report, RentCafe.com's research team analyzed Yardi Systems apartment data across 102 rental markets in the U.S. the data comes directly from market-rate large-scale multifamily properties of 50 units and more. Fully affordable multifamily properties have been excluded.
The markets were ranked based on a market competitive score. To calculate each market's score, we ranked them according to five metrics and their averages for January through April 2022: apartment occupancy rate, average total days vacant, prospective renters per vacant unit, the renewal lease rate, and the share of new apartments completed in the first four months of 2022 compared to the overall supply as at December 31, 2021.
We then compiled an average ranking by assigning a percentage weight for each metric: 30% for apartment occupancy rate; 15% for average vacant days; 15% for prospective renters per vacant unit; 30% for renewal lease rate; and 10% for the share of new apartments.
In this study, the terms "market", "area" and "metro" are used interchangeably and are defined as Yardi Matrix markets.
Fair use and redistribution
We encourage you and freely grant you permission to reuse, host, or repost the research, graphics, and images presented in this article. When doing so, we ask that you credit our research by linking to RentCafe.com or this page, so that your readers can learn more about this project, the research behind it and its methodology. For more in-depth, customized data, please contact us at [email protected].