Tour Austin Lee's Home in Greenpoint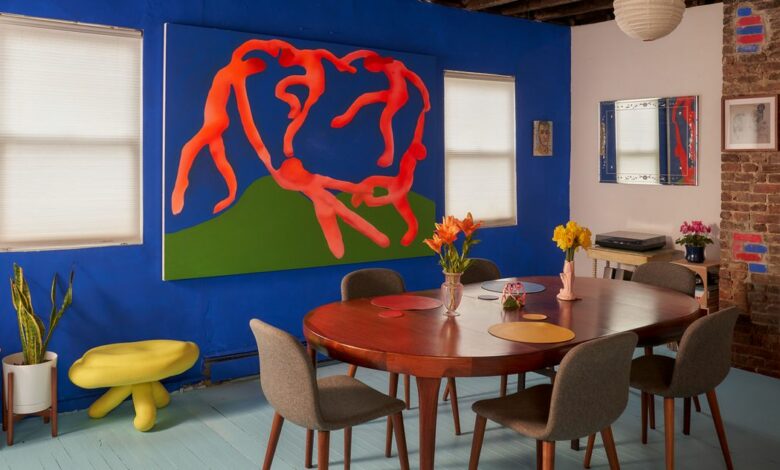 The dining room: Lee's copy of Matisse's dance dominates a wall in his dining room. He discovered the wooden beams while repairing a sag in the ceiling from an old leak. The table was a gift from her contractor.
Photo: Seth Caplan
I wasn't looking for anything specific — or anything," says artist Austin Lee of this 1899 home he bought three years ago in Greenpoint after a brief stay in a rather boring new condo, and that he has been tinkering with ever since. "I think that's kind of the vibe of the house: making things work."
Lee is originally from Las Vegas and spent his 20s in Philadelphia. He earned his MFA at Yale in 2013 and began working with gallerist Jeffrey Deitch five years later. He spent a decade renting a house in Long Island City similar to this one, as well as a separate studio. But after a six-month stay in Berlin, he gave up this place. And condominium life was not for him.
As you enter the Brooklyn home, you are dazzled by the brightly colored walls, as well as his own paintings and sculptures and those of his friends including Jordan Casteel and Peter Schuyff, and amazed by the understated mixed furnishings – his table dining room and chairs are oddly normal. With the help of entrepreneur Nick Leone ("An amazing guy who's worked with a lot of artists in the past, so he totally understood some of the unusual ways I thought about everything"), he transformed the sub- floor in his studio. It was Leone who gave Lee the not unusual dining table. "I'm usually into weird objects," says Lee, "but this one is classic and timeless and works great with everything else too."
A large canvas of Lee's interpretation of Matisse's 1910 painting Dance faces the dining table and the opposite wall. "I first made a small sculpture based on the Dance painting, then painting came after," Lee says. "It's nice to live with artwork that you love, so I sometimes make a copy of something if it's not possible to have the original. It also helps me better understand the One original work he owns is one of Jordan Casteel's paintings – actually two, if you count a work he gave to Casteel and she then returned, having painted on it. also has a small sculpture on the wall of a falling figure that Lee made as a self-portrait based on a drawing by Marc Chagall.
In the kitchen, Lee made the countertops out of wood, and he says that while they're not perfect, "it makes them a bit more special but also less valuable." The metal table is from a restaurant supply store. "My brother is a chef and used to work at a nice restaurant called Wallflower in the West Village. It's closed now, but I loved this place. It was super small and the kitchen was really tiny – barely enough room for two people. When I saw him cooking there, I realized everything was at his fingertips and thought it was a good idea to try. I kept this thought in mind when I set everything up in the kitchen. Try to have everything next to you so that everything is close at hand.
He made the mosaic above the stove. "I found a bunch of old tiles in the backyard when I moved in and was cleaning up the yard," Lee says. "They were all covered in dirt and kind of buried in the ground. It seemed crazy to throw them away, so I cleaned them all up and decided to use them to make a mosaic on the wall. He taught himself how to do it from YouTube. "It was a lot easier than I expected, actually, and super fun. Hoping to do more in different areas of the house eventually.
Its main gallery owner, Jeffrey Deitch, tells me that "there is a whole vocabulary of Austin Lee that you know instantly, whether it's a sculpture, a painting or a kinetic piece, know that it's him," highlighting how he works in digital, airbrush, and 3D printing, among other contemporary mediums, and experiments with motion capture technology and virtual reality. "I also appreciate the exuberance and optimism of the work."
"I think sometimes I will unconsciously paint things that I want or are missing in my life," Lee says. "Paintings so happy are sometimes more about the desire for happiness than a direct reflection of my daily life."