Tour Barbara Jakobson's Art-Filled Townhouse on the UES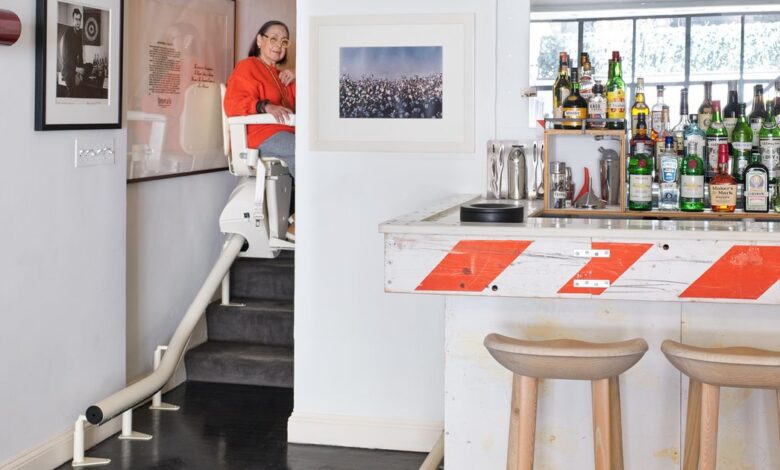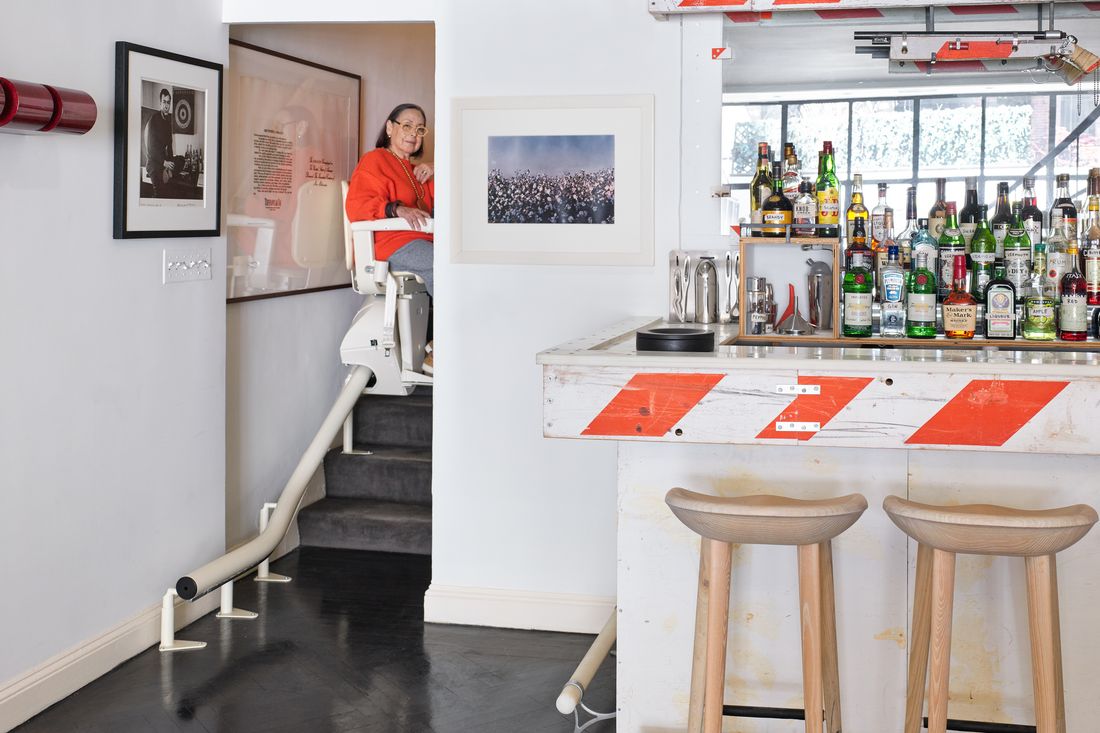 The staircase and the bar (ground floor): Jakobson in his Free Care stairlift made in the Netherlands. Tom Sachs created the bar from the barricades of Con Ed after selling his dining furniture at Christie's. "I don't make dinner parties anymore, I just drink parties," she says. "I always wanted to be a saloonkeeper."
Photo: Annie Schlechter
This house has a great story, "says Barbara Jakobson, of which she has done much of it herself. She is 88 years old and has lived here since 1965, filling the Five Stories with her collection of paintings, sculptures, photographs and furniture. And the last thing she wanted to do was leave her. But a townhouse means vertical living, and "after 56 years of climbing the stairs without major incident, I was hurrying from the top floor to the one downstairs at around 5.30pm on Friday October 23, I tripped, and so as I crashed onto the landing below, I cursed my fate, "she said. Her tumble broke her leg, but, she said happily, "I didn't hit my head!"
She immediately realized that she needed to find a way to move from floor to floor more safely. Probably one of those stairlifts, if she could find one she liked. The house could be adapted; it had always changed with her life as her collection evolved. "I see the house as a vessel for an autobiographical exercise in progress," she says. "I keep the transformation as proof of life."
The living room: Her house has evolved with her, but some traces are left. Outline is from 1971 by Frank Stella Felsztyn III, which was once hung here but was sold by Jakobson at its 2005 Christie's auction. The chenille sofa is a de Sede from 1972. Jeff Koons's Winter bear (1988) stand guard.
Photo: Annie Schlechter
She recalls visiting the Upper East Side home for the first time one January day with her former husband, the late financier John Jakobson, entering the downstairs garden room (now home to his bar designed by Tom Sachs) where "there was nothing but a Bechstein Piano and a Turner on the wall; who made the deal. (There was also a lion-headed fountain, but she removed.)
They raised three children there. Barbara, who grew up opposite the Brooklyn Museum and spent many hours in its galleries, had studied the art and history of architecture at Smith and, as an adult, began to collect works of 'art and got to know influential dealers including Sidney Janis, Ileana Sonnabend. and Leo Castelli. She also had an interest in architecture, encouraged by MoMA curator Emilio Ambasz, and after becoming head of the Youth Council of the Museum of Modern Art in 1971, she organized an exhibition of architectural drawings that included works by Peter Eisenman, Raimund Abraham and Gaetano Pesce and became administrator of MoMA in 1974.
Her many friendships can be seen in these rooms: she and Robert Mapplethorpe were close, and she sat for many portraits of him. Robert Morris's felt piece in the foyer she bought in 1970; "Bob was a great pal. I really knew him until the end of his life. She helped Sachs get her first job out of college, working with her when she was a consultant for Knoll, doing the plywood furniture with Frank Gehry, "what I asked Frank to do".
The living room: Jakobson's new carbon fiber walker intertwines with the totem poles of his life and interests. The portrait of Jakobson above the fireplace, one of many taken by Robert Mapplethorpe during their long friendship, is flanked by photographs by Matthew Barney. Richard Artschwager designed the chair in front of the fireplace. "I just thought it was so spiritual," she said of the Campana brothers' rubber vase with herbs in the middle of the room. the Lolita The rug is by Barbara Bloom. The view is on the double height room with the ghost Stella.
Photo: Annie Schlechter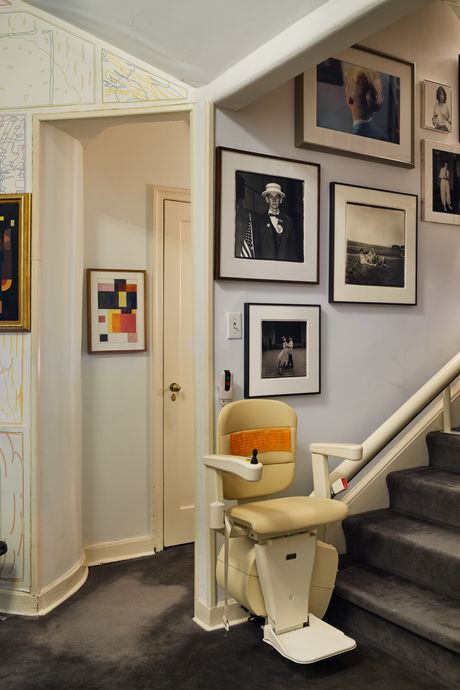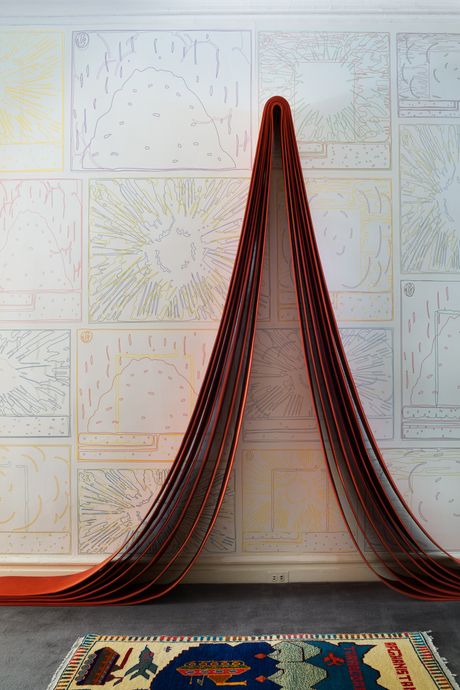 Book by German architectural historian Christian Borngräber Stilnovo ignited his obsession with Carlo Mollino's furniture. During a trip to Italy, she met Lisa Ponti, daughter of Gio Ponti. "When she found out that I liked Mollino's work, she said, 'Oh, he gave me a wedding present,'" she recalls. Ponti offered to sell his; Jakobson paid $ 12,000 for three Mollino side chairs and an armchair. She later traded one with David Salle for a painting and gifted one to the late Mark Isaacson of the Fifty / 50 Design Gallery, "which has been a big part of my assemblage of the period.
Over the decades, Jakobson's Townhouse has seen many iterations based on the books that spark her imagination and the design ideas she picked up from her travels.
Its decorative arts library is packed with Gio Ponti furniture and is inspired, says Jakobson, from a book about Paul Frankl. "I ripped this book mercilessly," she said. "The idea of ​​the grass canvas on the office wall and the idea of ​​the raked plaster in the locker room – all of that I came straight out of a book. The adjacent hallway is devoted to a collection of photographs of people who smoke. For his dressing room, "I wanted a room that reminds me of the smoking room in the living room. Queen Mary,"Jakobson said, and there she hung a picture of it.
The Decorative Arts Library: "This room was created in the 1980s with the help of Christian Hubert," notes Jakobson. The desk and wall bookcase were designed by Gio Ponti. The rug is by Edward McKnight Kauffer. The office chair is by Richard Neutra.
Photo: Annie Schlechter
His cloakroom: A Gehry plywood chair mixes with art.
Photo: Annie Schlechter
His bedroom, on the fifth floor, is a luxurious cocoon with a bookcase designed by Ambasz which hides his books. Hanging on the wall is a giant photograph of Mollino's bedroom in Turin, which she saw on the stand of the Fulvio Ferrari dealership at the Armory Show. "I said, 'Oh my God, I want it.' "
She unloaded a treasure trove of art and design that she had collected since the 1950s in a sale in 2005. Gini Alhadeff interviewed her for Christie's catalog, where she said: "Furniture and art are two different stories because the art, with a few exceptions, was purchased less than a year after its creation. And this is still true for the art I buy now. Collecting furniture from the 40s and 50s – it was more of a look back at my own life.
And she still collects. "You know, after I sold all this furniture at auction, I decided that I would not buy any more furniture except the ones designed by artists," she says. The Garden Room – where the previous owners had the Piano and Turner – still bears Frank Stella's shadow Felsztyn III (1971), sketched from when it was hung there.
Recovering from her fall, she looked into the correct chairlift, the one that could keep her in his house. She has always been fascinated by chairs. The first research paper she wrote, at age 13, focused on the history of the chair. Why the chair? "Well, you know, the chair is the substitute for the human body. The chair is the only piece of furniture that concerns a single human being. So from the moment you get into your high chair until the moment you settle into your wheelchair "- here she laughs -" you are dealing with chairs. And that's why, I mean, in a way, that's why the stairlift, when I found it, I realized, Oh my God, it's a chair; it will save my life."
His living room: Jakobson removed a platform that overlooked the room. Now there's a beautifully worn Edward Wormley armchair and ottoman, and on the wall is a 1977 quad bike portrait that Mapplethorpe took of her. The four photos were taken from the same shoot, which he grouped and framed.
Photo: Annie Schlechter
His room: The Lucite bed, by Grosfeld House, faces a photograph by Giorgio Jano, below, of designer Carlo Mollino's bedroom in Turin. It is as if you are somewhere else.
Photo: Annie Schlechter
The photography of Giorgio Jano.
Photo: Annie Schlechter