Tour Ceramicist Jim McDowell's Home Studio in North Carolina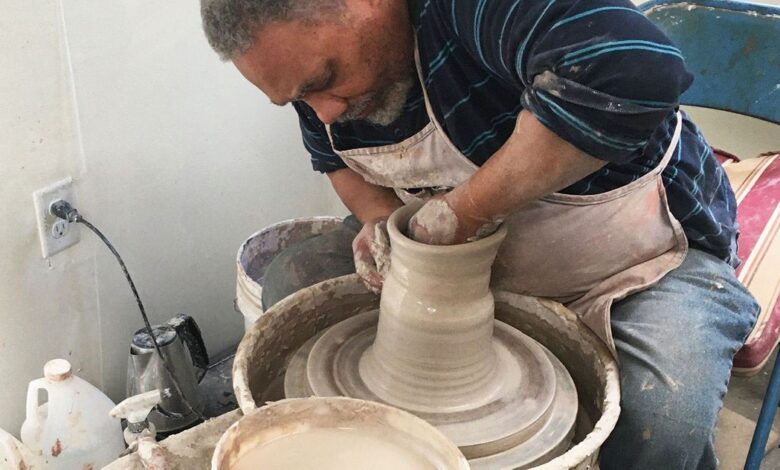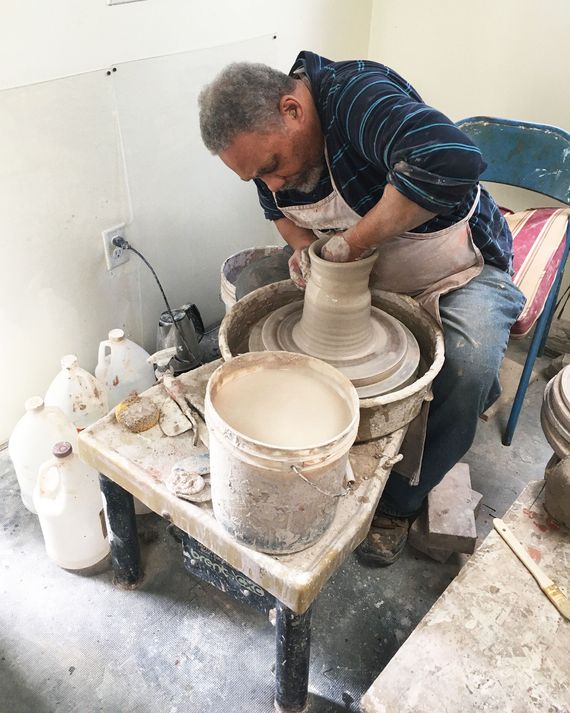 "I have five gallon clay buckets when I make pots," says Jim McDowell, "and the mud that I put in the buckets – now the ancients were spitting out tobacco juice. I do not do it. He's laughing. "I just poured in some apple cider vinegar."
Photo: Jan Fisher
Facial jugs have a long history, dating back to generations of slaves who created pottery for spiritual purposes. Ceramist Jim McDowell carries on this tradition with his own work. He tells me that his ancestors "merged three religions: ancestor worship in Africa, voodoo in the islands, and Christianity," and facial jugs were one of them. Because slaves were not allowed to have tombstones, ceramics were often used to mark their graves; placing a face jug in it served a double duty. "They were so ugly they scared the devil away from your grave so your soul could go to heaven," McDowell says. And once settled near the house of the living, they could ward off evil.
Gallerist Alex Tieghi-Walker introduced us; he discovered McDowell on Instagram about a year ago. McDowell lives in Weaverville, NC with his wife, Jan, and they told me about the art of this tradition.
McDowell was born in Norfolk, Virginia, and raised in Washington, DC His father, James T. McDowell, was a naval man and artist and was known to the family as Ol'Pa. The McDowells have many Ol'Pa paintings in their art-filled home.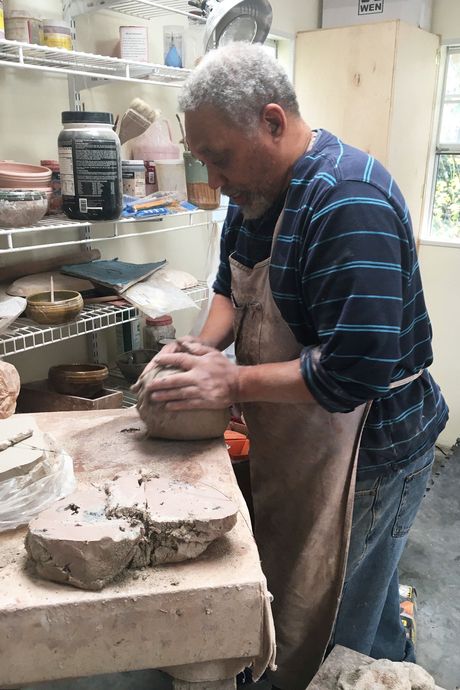 He learned to use a potter's wheel when he was in the army stationed near Nuremberg, Germany, in the late 1960s. But even before, he says, "when I was 18 months old, I was was in the sandbox playing with a substance that I thought was clay; there was a smell and I liked it. And that stuck with me. He laughs, perhaps thinking that it might seem strange to remember such an ancient memory, but the work for which McDowell is increasingly famous speaks of a blood memory that stretches back centuries. . McDowell's grandfather Boyce McDowell told him that his great-great-great-great-great-grandmother Evangeline was a potter when she was enslaved in Jamaica.
McDowell's personal journey to working with clay began 35 years ago and really took off after signing up for a workshop with potter David Robinson in Weare, New Hampshire. As McDowell explains on his website, he will often write pitchers on his face to honor the bravery of slave and potter David Drake, who not only was literate but signed his name on the pottery he created.
In a corner of the living room, behind rocker Eames, is a painting of a saxophone player by McDowell's father. A McDowell blue ceramic mask hangs on the wall by a vintage turquoise lamp found on eBay. The little stool, she says, "is kind of a trinket from an import store. I didn't even pay $ 30 for it.
Photo: Jan Fisher
A view from the dining table towards the wall with a landscape painting and a self-portrait of McDowell's father. McDowell's facial jugs are lined up below the landscape, and a selection of her pots sits above the glass cabinet.
Photo: Jan Fisher
One of McDowell's jugs in the garden, planted with ferns. "About a year after the studio was built," Jan says, "we were able to buy a big supply for all the new pieces and the pieces that aren't in the galleries, so I went and picked out a few that I wanted. love." It's their own little sanctuary.
Photo: Jan Fisher