Voting is open for the Readers' Choice categories at the 2022 Serviced Apartment Awards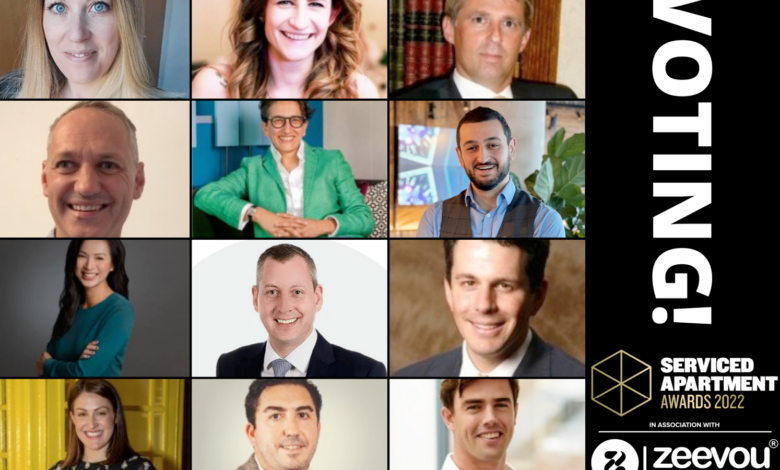 UK: Two of the prizes in the 2022 Serviced Apartment Awards will be decided by you, the Serviced Apartment News readers.
The categories are Industry Inspiration and Rising Star.
The shortlist for the Industry Inspiration category is below. Scroll further down the page to see the Rising Star shortlists, and to cast your votes click here.
The awards will presented at a ceremony at The Montcalm Marble Arch in London on May 10th. To secure your tickets, click here.
Industry Inspiration
Guus Bakker, Frasers Hospitality
Guus Bakker oversees the group's operations and development across Europe, Middle East and Africa including all the Fraser brands as well as Malmaison and Hotel du Vin. Guus launched Frasers UK operations in 2002 with the opening of three properties, growing it to more than 6o properties. Guus has 35 years' experience in the hospitality industry, having previously worked for Citadines where he left as regional director of operations after 14 years with the company. As well as growing the brand, he oversaw, last summer, the launch of a partnership between Frasers and The Burnt Chef Project, a non-profit campaign committed to removing the stigma and raising awareness of mental health issues within the hospitality industry.
Robert Godwin, Lamington Group and room2
Robert is a trained economist and entrepreneur with a background of sporting excellence competing in sailing for Great Britain and a passion for design and experience. Robert heads up Lamington Group, an established collection of companies investing and developing real estate in the residential and commercial sectors, including coworking space Missionworks. He is also the founder and Managing Director of award-winning room2 Hometels. In 2021, Robert and his team published the world's first whole-life net-zero carbon hotel roadmap in September, reflecting Robert's strong belief that the real estate and hospitality sectors need to take a lead on climate action to protect our planet for future generations. Sustainability isn't the only topic on Robert's agenda. He's committed to improving diversity and inclusion and asks all his employees to complete diversity, inclusion and equality training. In an often male-dominated industry, 59% of the Group's employees in management positions are female.
Asli Kutlucan, Cycas Hospitality
Asli is a hotel development professional who has worked in the global hospitality for over 25 years. Specialising in full and limited service and extended stay hotels acquisition, negotiation and execution of deals, focusing on the UK and continental Europe. Since joining Cycas Hospitality in 2011, she has been responsible for the acquisition, negotiation and execution of deals across the UK and continental Europe, including overseeing the hotel openings and technical services team. As well as being a key player in growing the Cycas portfolio, she is an inspiration in other fields. She established the joined the inspirational Akilah Institute team in Rwanda in 2010 and worked there for a while as a lecturer providing higher education for the country's future female leaders. She was also Trustee and Treasurer of Frontier Imaginaries, an arts charity based in Holland, and is a board member of the Rimbaud and Verlaine Foundation, an arts organisation with the wider goal of promoting the arts and culture and championing their role in social capital building.
Steve Lowy, The Residence Apartments
Steve, the CEO of The Residence brand, is truly passionate about the industry as a result of which The Residence brand keeps growing and expanding to new locations. He has put a lot of effort into growing the brand and keeping his team motivated particularly during the last years which have been tough due to the pandemic. Steve's drive for hospitality and serviced apartments has led to fantastic results in terms of occupancy and new openings. It is truly important for Steve to provide the guests with a "living" experience in London and through Covid, too the extent that he even created a cookbook to help Residence guests settle into London. Recently, he has been asked to become deputy chair of ASAP. He is always keen to have a positive impact on the sector and he always shares updates about the industry with his colleagues and keeps his community informed using various social platforms. As a result, several months ago, Steve has been included by the International Hospitality Institute in their top 50 list of Global Hospitality Influencers.
Stuart Winstone, SilverDoor
As SilverDoor's group CEO, Stuart is responsible for the operation and performance of the combined businesses, with a specific focus on delivering the group's growth strategies. He also leads the group businesses in their professional ethics and working environments. Stuart became SilverDoor's Group CEO in 2020, and before that worked in a number of different areas within the company. Before being commercial director, Stuart held roles within the account management and partner relationships departments. Prior to joining SilverDoor, Stuart worked for serviced apartment operator Dolphin Square, and also assembled a wealth of experience in the travel and hospitality industry in previous roles. Since becoming CEO he has overseen the acquisition of The Apartment Service, the opening of a new office in Spain, and the launch of a carbon-offsetting initiative in partnership with Trees4Travel.
Rising Star
Valeria Basso, Flying Butler Apartments
Valeria Basso entered the world of serviced apartments in 2013, working first on reception. She landed on Flying Butler as Reservations Agent in 2015 when the company only had 80 apartments, all within London. Rising through the ranks after success following success, Valeria was promoted to Head of Revenue and Distribution in 2019 and joined the SLT in 2021. At the age of only 34, she is now responsible for an ever-growing portfolio of 400+ apartments across the UK and leads with strong leadership, innovation, creativity, and accountability. In 2019, Valeria played an integral role in the smooth acquisition of ESA. Joining two teams and cultures, merging portfolios and integrating very different systems were noteworthy achievements. Shortly after, Valeria played a key role in the rebranding of the company, successfully helping to deliver a new brand identity for Flying Butler. Valeria has successfully built a passionate and dedicated team over the years. She serves as a role model and a mentor for others and knows just how to get the very best out of her team members. Since joining the SLT, Valeria is responsible for the strategic direction and goal setting for her department and is a key player in driving the ambitious EBITDA of the company.
Katie Garrahy, Roomzzz
Katie Garrahy made the move to the serviced apartment world in 2019 as Head of Sales for Roomzzz Aparthotels. In this newly created role, she was able to established a high performing sales culture at Roomzzz, gain recognition for the brand and be an ambassador for the serviced apartment sector. She has established key methods of communication throughout Roomzzz to ensure hotel managers, hosts and reservations were engaged in the sales process and understood how we work with our partners. Communication through a monthly newsletter and Salezzz surgeries allows the team to understand our activity during the month in a fun and palatable way. Our sales lead incentive initiative delivered over £1 million worth of business in 2020 – 2021. has grown the sales team at Roomzzz by 50% and established a National Account team as well as a new Business Development team. Katie is passionate about mentoring and development, team members have been promoted from sales manager to national account manager, and she has encouraged her team to join the ITM Mentoring scheme and Fast Forward 15 programme. She has employed sales team members who have no previously hospitality experience and nurtured talent and provided a robust training programme for them to thrive.
Ee Jin Lim, Oakwood
When hospitality companies were impacted by the pandemic, Lim was clear with what was necessary for the team to help the organisation continue to thrive under these circumstances and seized the opportunity to reimagine Oakwood's role in the industry. Oakwood chose the path less trodden to grow its global footprint and implemented initiatives that elevated the company's leadership position in hospitality. Despite the disruption caused by the global pandemic, Oakwood made the bold yet strategic move to shift the company's focus exclusively on hospitality management with a goal to double its portfolio of managed properties by 2025. In alignment with company's vision, Lim identified opportunities to expand the group's brand portfolio so as to provide a greater diversity of hospitality experiences to cater to untapped demand. She plays a critical role in supporting Oakwood's senior management team to guide the strategic marketing and branding functions in a manner that is aligned with the Oakwood's vision.
Katarzyna Michalik, Supercity Aparthotels
Few companies in our sector can say they achieved budgeted revenues in 2021/22. At Supercity Aparthotels, not only did the company achieve budgeted revenues this financial year, but it exceeded pre-pandemic revenue performance from November 2021 onwards. This success can largely be attributed to our revenue strategy driven by Kasia, our Group Revenue & E-Commerce Manager. Navigating through the challenges of the past year, Kasia demonstrated exceptional adaptability and focus, utilising her knowledge to maximise revenue opportunities. Kasia led our rate strategy without the use of an automated Revenue Management System (RMS) to ensure that our pricing was correct across all 6 properties in London, Brighton, and Manchester. She also implemented a new pricing model which was used as a strategic blueprint and helped ensure that Supercity Aparthotels maintained a leading position in the STR comp set .e.g. in Feb 22, the four London properties were placed 1st for RevPAR across the city. She is passionate about our industry and has many attributes that are critical for success and growth of our company and our sector in general.
Jake Seage, STAY
Jake has always been passionate about the hospitality industry, starting out as a Bar Supervisor at Royal Ascot, before moving on to the role of Assistant Manager at Polpo restaurant, Soho. He joined the Serviced Apartment Sector with Go Native, and as he quickly worked his way up to Head of Trade Sales in just there years, it was clear that this was the sector for him. Since then, Jake has thrived. At Cycas, he successfully opened four Marriott Residence Inns in Europe in 1.5 years. After Cycas, he furthered his experience in the industry at Marlin before moving into his role at STAY Camden. Last month, Jake was asked to assume the role of ASAP Deputy Chairman in September 2022,  thus paving the way towards his future position as chairman in September 2023. Jake is the youngest advisory ASAP board member to date. His support for the sector also extends to charitable work, as he helped set up the HAM & Chips campaign in 2021, to raise money for Hospitality Action. Jake also sits on the European Accommodations Committee for the Global Business Travel Association. His successes to date are an exemplary representation of a young person's potential in the industry, and a reflection of his longing to see more diversity within the serviced apartment industry at senior levels.
Angelch Shtrbevski, Cycas Hospitality
Angel, as he is known, is Operations Manager at Moxy and Residence Inn Slough at Cycas Hospitality. At just 29 years old, Angel has already successfully worked across a wide number of hotel departments and established himself as an exceptional hospitality asset and much-loved team member. In 2018 Angel joined Cycas Hospitality as F&B Service Manager in Heathrow. He quickly made an impact and was promoted to F&B Manager within five months. Identified as 'one to watch', he secured one just 12 places on Cycas Hospitality's inaugural Cyfari Leadership Programme. Recognising his operational talent, passion for people and fluency in four languages, Cycas hand-picked Angel for its double-decker Moxy / Residence Inn Slough team, which opened February 2021. Averaging one promotion per year, Angel has swiftly risen through the hospitality ranks, from F&B agency worker to Operations Manager within just six years. A quick learner, team player and hospitality champion, he also understands how to help his team perform to the best of their abilities, treating colleagues as family, ensuring they feel appreciated, and keeping true to Cycas's people-focused culture. He demonstrates willingness to develop new skills and learn from other departments, while showing loyalty to the wider Cycas goals and colleagues in other properties. Given his young age, his extensive hospitality experience and willingness to both learn and nurture others, Angel has the potential and drive to become a very successful GM while helping raise the profile of hospitality as a great industry to work in.
Justin Webster, OWL
Justin Webster is OWL's Director of Global Supply Chain. He is a renowned mobility industry professional with progressive leadership experience managing the global supply chain within the relocation management industry. He joined OWL as the Director of Global Supply Chain in September 2021. His extensive experience continues to contribute to the success of OWL's launch of its global expansion serving six continents with a supply chain reach of Africa, Asia, Europe, Australia and North and South America. OWL's mission is to revolutionize the sourcing and procurement of mobility services. Its Vision is to be a sourcing software that works for businesses, a "best-in-class" marketplace for the mobility industry. Based in London, Justin has worked with the top relocation and mobility firms for over a decade, including companies such as Sterling Lexicon, SIRVA, The Reader's Digest Association in London, and Swindon, to name a few. Under Justin's leadership OWL has achieved impressive performance by building out a robust global supply chain covering 48 countries and 1,696 cities. This number is growing exponentially every week. Because of Justin´s experience and networking, OWL now proudly offers its innovative technology globally – helping to connect hundreds of suppliers, serviced apartments, and relocation management companies worldwide. Justin is a consummate professional oriented to excellence. He understands how challenging and complex the relocation process can be for all involved.