What it's Like Living with Wall Beds — 600sqftandababy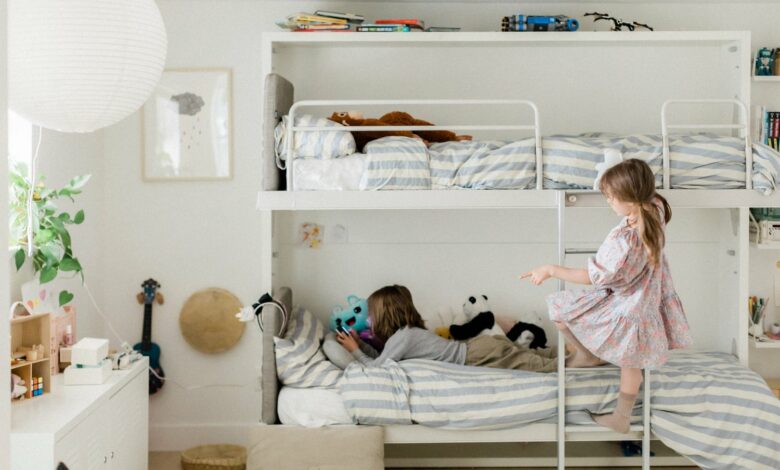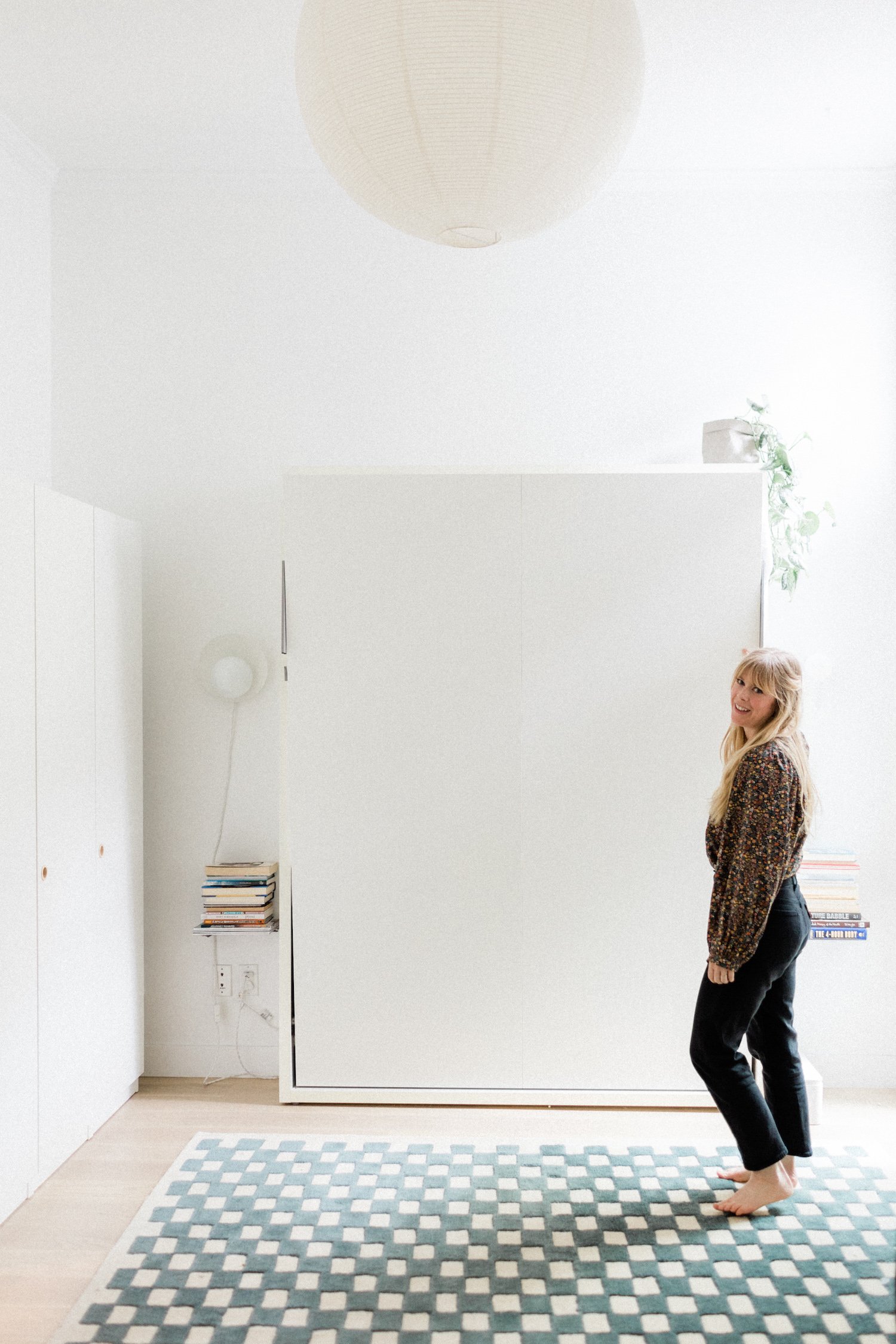 This is an update to an article compiling the most common questions about living with wall beds. I updated it answering questions about wall bunk beds and how they work in our new space. Don't miss a special offer at the end of the post.
What wall beds do you have?
We have the base model Resource Furniture Ulisse (Queen) (related to similar Penelope, the Ulisse is the most basic model with visible hardware) in matte white. The children have the Kali Duo wall berths with metal top guards and gray headboards.
How much did your bed cost?
Honestly it's been 9 years, I can't remember the exact cost, but it was definitely thousands of dollars and a big investment. I'm sure the price has changed over the years. You should request a quote from Resource Furniture. You can also shop for other options, I believe the wall bed market is growing, just be careful to ensure the safety of mechanisms and installation. As always, I recommend professional installation to ensure the bed is securely attached to your wall.
While a Murphy bed is a big investment compared to a new bed frame, we've always thought of it as a second bedroom investment. A second bedroom in our town is a jump of $200-300,000 or about $500-600 more in rent per month. When you compare the cost of the high-end Murphy bed against the cost of moving and increasing rent or mortgage payments, the cost doesn't seem as prohibitive. I'm still shocked that our Murphy bed kept us in our apartment for 7 more years! We initially thought it would allow us to stay 2-3 years.
Will your children be crushed if you move away from the bed while putting it away? How to ensure the safety of children with the Murphy bed?
This question actually prompted this post. I guess the reader's experience with Murphy beds is the vintage versions that come plummeting out of the wall. This new version has pneumatic pistons to facilitate the ascent and the slow descent. I can put the bed away or pull it down with one hand.
Also, I like to think I wouldn't leave while my kid helps put the Murphy bed away. I have not yet ;). But even if I did, the bed would slowly lower onto them and stop when the legs came out, so I doubt serious damage would occur. There is also a safe on the bed, so you have to unlock the bed (well above child's height) and then pull it out again to lower the bed. This feature also ensures that if the bed is not stored properly and locked, it will still not fall over. All I'm saying is that we and the kids have definitely been injured over the years, but none of the injuries were from the Murphy bed.
I was wondering what mattress you have that allows you to keep your pillows and bedding on when you close the bed? Do you like to?
We purchased our mattress from Resource Furniture. I'm pretty sure we bought the firmer option because we wanted it to last a long time. We were really nervous about the whole Murphy bed concept and the store convinced us that a traditional mattress would sag over time. We are happy with our mattress although I can't say I'm a mattress expert. I wonder if another (more affordable memory foam mattress) would accomplish the same thing. I measured our current mattress and it's about 6.5 inches thick. We have had it now for 9 years and it has held up very well and is still very firm.
Our bed is put away by making the bed and folding the duvet over the edges. Then two straps are buckled on the bed to hold everything in place.
Also, what bedding/blankets do you use in the winter that are warm enough and thin enough to zip up in the bed? We have a big down comforter, but I feel like it will need to be replaced.
We use a thin down comforter (with a Last light linen duvet cover) and I guess a big fluffy duvet might not fit or be hard to tuck in every morning. I would opt for a finer duvet that provides similar warmth and comfort. Sometimes if it's really cold we add our throw blanket from the sofa as extra warmth, but most of the time we just turn up the heat. Small apartments tend to mean lower electricity bills.
Same for Theo (who is still in the bottom bunk), he has a thin down duvet (twin size) and a pillow that folds up easily but keeps him warm. I just bought some Ikea duvets because bedwetting and vomiting happens and I didn't want to be upset with a very expensive duvet. I think we can invest in a better comforter in a few years.
We only use 2 pillows on our bed. I tried to put a third one and it does not work. So my advice would be, really like the 2 pillows you have 🙂
We were also looking at the Kali Duo bunk beds for the kids room as we would like to have another child soon enough. Did you buy these mattresses from Resource or did you find them elsewhere?
For the bunk beds, we had some foam cut at our local discount foam store. Mattress sizes are slim in Europe so I couldn't find anything on the shelf. For the same reasons I didn't want to invest in nice duvet covers, we didn't want to invest in nice mattresses for the kids. We'll be upgrading when the kids get bigger and heavier, but so far these mattresses are just fine and were a great way to save some money on a really big investment.
We…have just invested in a Murphy bed…YET I have so many doubts! The bed arrives in March and I continue to worry that we are making life harder instead of easier. What do you and your husband do for bedside tables? Your books next to the bed look great, but what about alarm clocks, phone chargers, earplugs (my husband snores), etc. ? Our clothes are still going to be in the bedroom…where do you keep your pajamas? And do you take out your clothes for the morning workday the night before?
I fully understand your fears and nervous energy. I felt exactly the same while waiting for our Murphy bed to arrive (and the same way while waiting for the bunk beds!). I can assure you from my perspective that all those fears went away once we got our bed and most of the things you mention don't even count as a loss to me at this point. But let me address each point individually…
Nightstands – yes, we each have a floating shelf with a stack of books and a bedside lamp for reading. Trevor has a lot more electronics, so he has one of those cable boxes next to his bed to store those devices safely. I just plugged my phone into the kitchen counter which is within reach of my bed and out of reach of children. My phone is also my alarm clock.
Clothes – our clothes are still in the room. I try to get my pajamas out before the kids go to bed or on tiptoe afterwards (risky move!!). The only time it really bothers me is if I want to pack for an overnight trip and can't get to my clothes. Also, Trevor gets up early for work most of the time, so he'll usually take his clothes off the night before so he doesn't risk waking the kids. But generally, if the children are up, we are up and we can access everything we need. It's the kind of inconvenience you get used to when you live small that becomes second nature. Update: Not much has changed in our new space as we still have a shared family closet. And we always go through the children's room to get there.