What Real Estate Does Trump Own in NYC Anyway?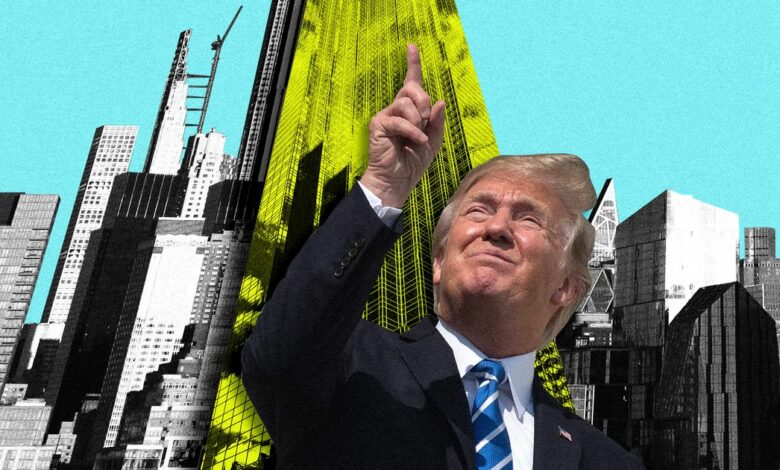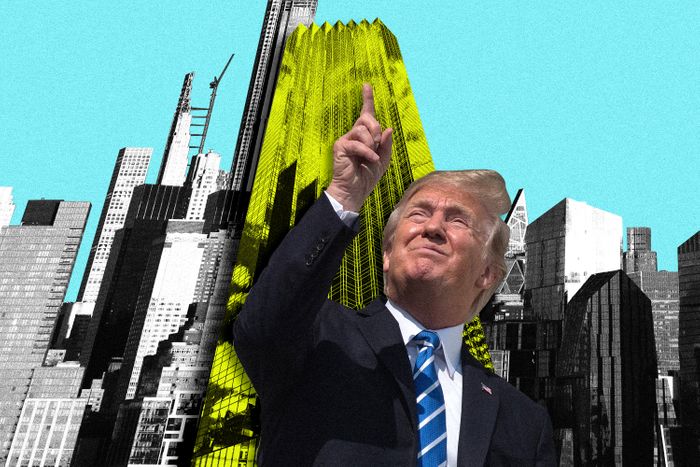 Photo-Illustration: Curbed; Photos: Getty
If you walked around New York City a decade ago, you'd be forgiven for assuming that Donald Trump owned a huge chunk of it. While the biggest landowners in the city have long looked down on his portfolio — "Donald Trump is not a major player in New York City real estate," a director at the Durst Organization scoffed in 2013 — the former president is perhaps unmatched in his self-promotional bluster and the visibility of his brand.
But Trump's golden façade has been crumbling for years. Since he was elected president, units in his buildings have sold for less than those in their luxury competitors and struggled with vacancies. Condo boards across Manhattan have voted to remove his name from their buildings; in 2019, even the flagship Trump International Hotel and Tower agreed to reduce the size of his name. But Trump's grift came into sharper focus after New York attorney general Letitia James's civil lawsuit in late September, which alleges that Trump and his family fraudulently inflated the value of their properties in order to receive favorable loans and, in the process, hundreds of millions of dollars. If James's lawsuit prevails, it would permanently bar Trump and his three eldest kids from serving as officers or directors in any New York corporation and ban his company from signing New York real-estate deals for five years — on top of fining him at least $250 million in damages. But what does Trump actually own in New York?
It's a question that perhaps only Trump and his lawyers can answer — and maybe some government investigators. That said, James's filing, media reports, and public records paint a pretty good picture of a so-called real-estate "empire" far smaller than his brand suggests. In 2015, there were a reported 17 buildings in Manhattan bearing Trump's name (along with Central Park's Wollman Rink and the Trump Golf Links golf course in the Bronx). But a number of those have since shed their Trump branding, and it appears his hold on many of the remaining properties is tenuous at best — one licensing-deal expiration away.
1 Central Park West
Trump owns the service areas.
Trump International Hotel
Photo: Roy Rochlin/Getty Images
Although it's a popular target for anti-Trump protests, the Columbus Circle building, which is roughly half hotel rooms and half condos, is owned by General Electric and Ohio's Galbreath Company, which hired Trump to glitz it up in 1996. What Trump does own here, according to the New York Times, are the parking garage, the valet booth, room-service kitchens, lobby bathrooms, a restaurant space, and one unit.
In 2019, condo owners demanded the removal of Trump's large, block-letter name from the façade for dragging down their property values. In a compromise suggested by Donald Trump Jr., the building ended up splitting the façade in two: the left half reads "Trump International Hotel" and the right, "One Central Park West" — both in a serif font that's slightly smaller and less tacky than before.
725 Fifth Avenue
Trump owns it.
Trump Tower
Photo: Spencer Platt/Getty Images
The Trump Organization owns the 58-story Trump Tower, where Trump infamously descended on an escalator before his run for the White House. This is its headquarters after all. Letitia James's filing alleges that Trump significantly inflated the square footage of his triplex apartment here, claiming that it spanned as much as 33,000 feet when it was just over 10,000 feet. "Based on that inflated square footage, the value of the apartment in 2015, in 2016, was $327 million," James noted. "To this date, no apartment in New York City has ever sold for close to that amount."
Trump Tower has reportedly struggled with high vacancies (though a cast of infamous characters has called it home). In 2021, the Trump Organization's $100 million mortgage on the building was put on a watch list before the company refinanced it this year. According to the Washington Post, a MAGA-affiliated PAC was recently one of its most reliable tenants, paying $37,500 per month to lease office space and another $3,000 per month for a kiosk in the lobby — despite the lobby being closed.
40 Wall Street
Trump owns the ground lease.
The Trump Building
Photo: Raymond Boyd/Getty Images
This Great Depression–era skyscraper on Wall Street features prominently in James's lawsuit: She accused Trump of valuing the building as high as $530 million in 2013, despite a bank-ordered appraisal that had put its worth at $220 million the previous year.
And while 40 Wall Street is one of Trump's largest holdings, he doesn't actually own the property. Rather, he owns the "ground lease" to the 72-story building, which requires him to pay rent to the landowners — the obscure but wealthy Hinneberg family of Germany.
1290 Sixth Avenue
Trump owns a 30 percent stake.
Photo: Andrew Burton/Getty Images
Trump acquired a chunk of 1290 Avenue of the Americas almost by accident, when Hong Kong investors who'd bailed him out of a residential project near Lincoln Center swapped it for the midtown office building instead — leaving Trump with a 30 percent stake in the office building that is locked up until 2044 — which means he can't sell it until then (when he'll be 97 years old). The Hong Kong investors then sold their controlling interest to Vornado. Trump has no control over the building's management or branding, but his share on paper is one of his company's biggest assets.
James accuses Trump of conveniently omitting the restrictions of the share — like not being able to sell it for decades — in his financial statements, which falsely portrayed the amount as "cash" that he controlled. James said Trump cherry-picked numbers to create "false and misleading valuations" that made the property appear to be worth $1.5 billion more than it was in reality.
502 Park Avenue
Trump may own some units.
Photo: Drew Angerer/Getty Images
Trump reportedly owned 23 apartments in this 32-story building as of 2013, which included unsold condos and rental units. In 2011, Ivanka Trump rented one of the unsold penthouses, which included an option to buy it for $8.5 million. But shortly thereafter, the Trump Organization claimed the unit was worth $25 million without disclosing the far cheaper price offered to Ivanka. Another issue was that 12 of the building's apartments are rent-stabilized — Don Jr. has reportedly called them "the bane of my existence" — and appraised by a bank at $750,000 in total. The Trump Organization claimed those apartments were worth as much as $50 million. This creative accounting enabled the Trump Organization to value the building as high as $350 million, James's lawsuit said. But in reality, it was worth much less — $72.5 million, according to a 2010 valuation.
4–8 East 57th Street
Trump owns the ground lease.
Photo: Patti McConville/Alamy Stock Photo
Trump owns the ground lease but not the land under 4–8 East 57th Street, a cavernous single-tenant commercial building formerly known as Niketown. This means he's paying ground rent to an entity known as 57 Street Associates, which is associated with an obscure midtown real-estate company called Digby Management, according to public records.
James's filing alleges that Trump essentially took a number from 1995 and multiplied it by a fixed percentage every year to come up with an inflated valuation of $422 million while omitting that its ground rent to the landowner was "increasing substantially."
Nike moved out in 2017. In 2018, Tiffany & Co. moved in temporarily while it renovated its flagship store nearby — but it will be moving out soon.
100–106 Central Park South
Trump may own some units.
Trump Parc
Photo: Kenneth Grant/Alamy Stock Photo
Trump bought 106 Central Park South, a 38-story hotel (now referred to as Trump Parc) and 100 Central Park South, an apartment building, in 1981 to turn into luxury condos. The 14-story 100 Central Park South (referred to as Trump Parc East) came with tenants in rent-controlled and rent-stabilized units, whom Trump unsuccessfully tried to harass into leaving — instead, he ended up having to pay their legal fees.
Today, Trump's ownership here is likely limited to a handful of apartments. That's after he sold a few units to Eric, his son, for well below market price in 2016, which could have saved him a hefty tax bill, a ProPublica investigation found.
167 East 61st Street
Trump may own some units.
Trump Plaza
Photo: Google Maps
Trump reportedly owns two units in this 36-story Upper East Side co-op building which still bears his name.
845 United Nations Plaza
Trump doesn't own it.
Photo: imageBROKER/Alamy Stock Photo
This 376-unit midtown residential condo building came under scrutiny in 2018 when the Qatari government bought a $6.5 million apartment here while Trump was in the White House. A Trump Organization attorney said the building is owned by its third-party condo owners, not Trump, and therefore Trump would not profit from Qatar's purchase. But legal experts pointed out that the Trump Organization could still be collecting fees from Qatar as the building's property manager, which could have violated the Constitution's emoluments clause forbidding those holding federal office from receiving gifts from a foreign state or its representatives. During the 1990s and aughts, Derek Jeter, Bill Gates, Harrison Ford, and Kellyanne Conway owned or rented units here.
610 Park Avenue
Trump never owned it.
On it's website, the Trump Organization lists the condo building at 610 Park Avenue as part of its real-estate portfolio. It's just the property manager though. The owner is Colony Capital, which bought the building from the former Mayfair Hotel in a bankruptcy auction in 1998. Trump has never claimed owning any part of the building.
200 East 69th Street
Trump doesn't own it.
Trump bought and razed the former New York Foundling Hospital building to erect Trump Palace, which, at 55 stories, was the Upper East Side's tallest structure when it was finished in 1991. Residents of the condo building included Keith Olbermann, who tweeted when he sold his condo in 2016 that he had gotten back "90% of my money and 100% of my soul."
There's no indication that Trump still owns any part of this building. In 2021, the co-op removed Trump's name from the façade — to the relief of many residents.
140, 160, 180, 200, 220, and 240 Riverside Boulevard
Trump doesn't own it.
Photo: Drew Angerer/Getty Images
Until recently, six of the most vaunted residential buildings on Riverside Boulevard were named "Trump Place" — but Trump didn't build them. He originally bought the lot in 1985 as part of a failed pitch to turn it into a vast complex called "Television City." Facing bankruptcy in the 1990s, Trump sold a controlling interest in the project to a group of Hong Kong investors (he was left with a 30 percent stake). The investors built three residential towers before selling them to Extell and the Carlyle Group, then used the proceeds from that sale to buy 1290 Avenue of the Americas from Apollo and Jamestown, which transferred Trump's minority stake to 1290 (and removed him from any ownership in the Riverside towers).
Extell, the site's new owner, sold the three buildings (140, 160, and 180 Riverside Boulevard) to Equity Residential, then built three more. The newer three (200, 220, and 240 Riverside Boulevard) are managed by the Trump Organization, though all six initially carried Trump's branding. The non-Trump-managed properties began removing his name as soon as he was elected in 2016, and by 2019, all six buildings had voted to dump "Trump." There's no indication that Trump owns any units here.
246 Spring Street
Trump never owned it.
Photo: Stacy Walsh Rosenstock/Alamy Stock Photo
Trump never invested money into building this condo hotel. But he struck a deal with its partners — including Russian-mafia-linked convicted felon Felix Sater, to license the Trump name and manage the building, which he first announced on The Apprentice. In 2015, Sater helped Trump pursue a deal to open a Trump Tower in Moscow, bragging to Trump's attorney Michael Cohen that he had close ties to Vladimir Putin. "Our boy can become president of the USA and we can engineer it," Sater wrote.
Trump SoHo drew protests from locals as soon as it was announced and struggled to attract guests and buyers. It was later hit by a lawsuit from condo owners who accused the Trump Organization of inflating sales numbers to entice them into buying, then another lawsuit by an employee at Sater's firm, Bayrock, who alleged that the hotel was a front for money laundering. Trump cut ties with the building in 2017, and he has since claimed he wouldn't recognize Sater if they were in the same room.
500 Hutchinson River Parkway
Trump never owned it.
Photo: ZUMA Press, Inc./Alamy Stock Photo
This golf course on a former landfill in the Bronx was built by New York City with a reported $127 million in taxpayer money. In 2012, the city granted Trump a 20-year license to operate the course with a 100-foot-wide "Trump Golf Links" sign visible from the Whitestone Bridge — a sweet deal that has allowed Trump "to keep almost every dollar that flows in," according to the Washington Post. But those days are almost over, as the contract is set to expire early next year.
The city is currently facing demands from City Council members and families of 9/11 victims to end the contract even earlier — before a planned women's tournament in mid-October that's backed by the Saudi government. But the mayor and the city's parks department have refused, saying that would mean paying Trump as much as a $30 million termination fee in addition to possibly getting sued.
It turns out that of the many Trump-branded or -associated properties, he appears to only own one outright: Trump Tower. In most other cases, Trump's name on a building represents a licensing agreement, a condition of sale, or the Trump Organization's role as property manager. Trump's only equity in many of "his" buildings appears limited to a handful of unsold apartments or common spaces — if any at all. In effect, his footprint in New York has already been shrinking for years, and James's lawsuit, while it may never come to fruition, has already laid that bare.