Where to Find the Best Ice Cream in Portland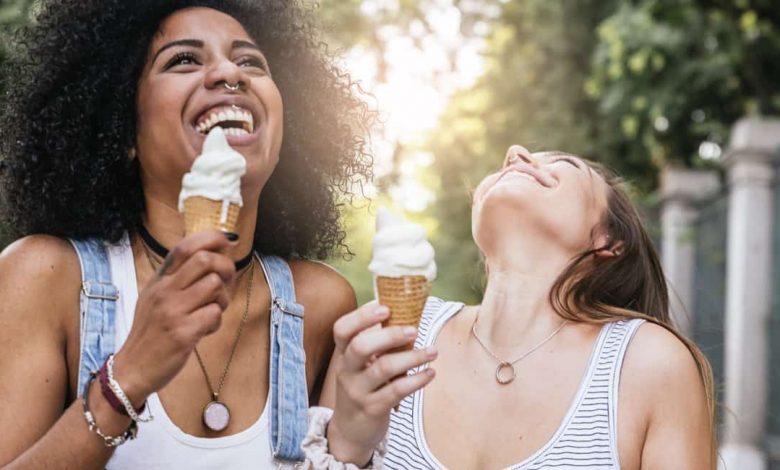 Despite the common misconception that the weather is constantly cloudy with a light drizzle, summer in Portland often gets scorching. One thing to know about Portland, when the sun is shining bright and the temperatures soar to 90 degrees, there are few things as relaxing as a scoop or two of delicious ice cream.
In a city known for its award-winning coffee and cuisine, it's no surprise that dessert is a delicacy, with an emphasis on ice cream. The official drink of Oregon is milk and plenty of the state of dairy farms produce some of the best produce in the United States In other words, ice cream is really good here.
When you need a treat to beat the heat, here's where to find the best ice cream in Portland:
Cheese Snack & Crack

Location: 22 SE 28th Ave., Portland, OR 97214
What to order: Cheese & Crack Sundae
Cheese and Crack Snack Shop started out as a humble, cheese-centric food cart before winning the hearts of the city's dairy aficionados and expanding to a charming brick and mortar location in the Kerns district.
Their menu includes the most deliciously creamy soft vanilla ice cream. You can order it in a simple cake cone hiding a decadent chocolate ganache filling or in a satisfying sundae. Garnish with colored beetroot, chocolate malt, espresso, matcha or strawberry powder.
While the sprinkled cones will certainly grab your attention, but the highlight of the show is the namesake Cheese & Crack sundae. It features decadent layers of chocolate ganache and cinnamon butter cracker crumble with a flambéed homemade marshmallow. Think of it as the comfort of a campfire in a cold mug.
City of Clouds Ice Cream

Location: 4525 SE Woodstock Blvd., Portland, OR 97206
What to order: Marionberry Crisp
Located in a picturesque corner of the Woodstock neighborhood, City of clouds is a small shop that collects great flavors. Their artisanal small-batch ice cream focuses on natural, local ingredients.
The menu and the seasonal flavors change. But you can expect classics like Buttery Pecans, Mint Chips, Cookies and Cream, plus bolder choices like Caramelized Banana, Earl Gray Blueberry, and the aptly titled Better Than Therapy. .
This place also likes to keep it local. The crispy reflections of the puppet Oregon's most beloved bay in a tasty way with their crunchy homemade oats.
Cool Moon Ice Cream

Location: 1105 NW Johnson St., Portland, Oregon 97209
What to order: Kulfi ice cream
When the heat begins to rise in the streets of downtown Pearl District, head to Cool Moon Ice Cream for gentle relief. This trendy scoop shop makes all of its products on site from cane sugar and natural ingredients.
Cool Moon has an impressive list of almost 200 flavors. With 26 flavors available at once, plus great sorbets, shakes, floats, popsicles and sundaes – your choices are endless.
One of their permanent flavors, Kulfi, will make you feel particularly luxurious with its notes of pistachio, cardamom and rosewater. It's the perfect treat to savor while window shopping in the neighborhood's upscale boutiques and galleries.
Eb & Bean

Location: 1425 NE Broadway, Portland, OR 97232, 3040 SE Division St, Portland, OR 97202, and 645 NW 21st Ave, Portland, OR 97209
What to order: Magic Shell
If you fancy a dessert with a little less guilt or dislike dairy products, Eb & BeanProbiotic-rich organic frozen yogurts are exactly what you're looking for. You can find them in the Richmond, Nob Hill, and Irvington neighborhoods, so icy fun is never far away.
Eb & Bean's seasonal froyo flavor list regularly alternates with dairy and non-dairy options. Good news though – they have chocolate and vanilla ice cream all year round.
However, what sets this place apart is the glorious list of toppings. Many are organic, made on site or from small local producers. From candies and baked goods to hot fudge and nuts, the possibilities are endless.
You really can't go wrong, but their Magical Dairy Free, Raspberry and 'Newtella' Chocolate Shells are the perfect upscale take on a nostalgic classic.
fifty licks

Location: 2021 SE Clinton St. # 101, Portland, OR 97202, 2742 E Burnside St., Portland, OR 97214, and 1647 NW 21st Ave, Portland, OR 97209
What to order: French toast ice cream
If you are in the Northwest District, Kerns or Ladd's Addition neighborhoods, fifty licks is a local favorite that is sure to satisfy your sweet tooth. This popular food truck turned mini ice cream empire makes all of its flavors from scratch using local ingredients and tons of cage-free egg yolks to create a deliciously rich texture.
You're going to want to try more than one of their gourmet flavors like Thai rice, mochi matcha, toasted milk, or salted lavender caramel. The French toast contains chunks of real challah French toast with a ribbon of dark maple syrup and a hint of cinnamon that will absolutely rock your world. Vegan options like Foster bananas and mango sticky rice will also melt in your mouth.
Kate's ice cream

Location: 2636 NE Sandy Blvd., Suite F, Portland, Oregon 97232
What to order: Funfetti cake
If you are looking for a herbal spoon with all the taste, go to Kate's in the district of Kerns. Made with organic coconut and cashew milk and fresh, seasonal produce, Kate's ice cream is so delicious you won't miss the dairy.
You can find pints of their signature flavors at local grocery stores or stop by their storefront to enjoy a scoop on top of a fresh, gluten-free waffle cone. The funfetti cake flavor is a nostalgic feast for your mouth with rainbow sprinkles, vanilla frosting and a sweet ice cream base.
Mike's Drive

Location: 3045 SE Harrison St., Milwaukie, OR 97222
What to order: Strawberry soft serve
Even with all of Portland's most sophisticated options for ice cream, sometimes nothing beats the classics. Take a quick trip southeast to Mike's Drive in Milwaukie for a throwback that never goes out of style. Mike's has been serving some of the tastiest shakes, sundaes, soda and drive-thru fare in town since 1971.
They have over 30 flavors of shakes made with soft ice cream or local Umpqua ice cream. But their selection of treats made with fresh Oregon berries is hard to beat.
Savor a soft strawberry cone during peak season in August or September and you'll understand why families have been coming here for decades.
Gelato Pinolo

Location: 3707, rue Division Sud-Est, Portland, OR, 97202
What to order: Fior di Latte
Treat yourself to the creamy delight of ice cream in the Richmond neighborhood with a trip to Gelato Pinolo. The place focuses on preserving the art of making traditional and authentic Italian ice cream. The result is a pure, simple and authentic dessert that is sure to dazzle. The slightly higher temperature, lack of eggs and low fat content gives their ice cream a texture all its own. Taste the difference in the quintessential fior di latte, which translates to "flower of milk". Sorbetti is also a great non-dairy option.
PDX Waffle Puffle

Location: 13551 SE 145th Ave., Happy Valley, OR 97015
What to order: the king of chocolate
Puffle's Waffles The flagship location is currently moving from southeast to north Portland. But their food truck is only open a few minutes from Happy Valley. The fame of this place is the puffle waffle, a tasty egg waffle and popular street food from Hong Kong with puffy bubbles of soft and airy sweetness that offers a unique texture. Choose from an original, chocolate or green tea waffle. Fill with a carefully curated selection of ice cream flavors, then go crazy with the long list of toppings. Alternatively, their top picks offer perfectly balanced combinations like King of Chocolate, with Chocolate Waffle, Chocolate Ice Cream, M & Ms, Chocolate Pocky, and Chocolate Sauce.
Salt & Straw

Location: 3345 SE Division St., Portland OR 97202, 838 NW 23rd Ave., Portland, OR 97210
What to order: salted, malted and chocolate chip cookie dough
Salt & Straw is the king of Portland's ice cream scene and for good reason. This innovative scoop shop started here in Rose City with locations in the Richmond, Nob Hill, and Alberta Arts neighborhoods. Their popularity has skyrocketed and spread to several cities across the country.
Choose from a selection of pending flavors or venture through their list of creative seasonal ice creams made with local ingredients to find out what all the hype is all about. Lines are likely, especially in hot weather, but it's worth it. Don't be afraid to ask for samples or grab a pint to get home!
I scream! You shout! Portland is screaming for ice cream!
When the summer sun is hot, Portland has plenty of ice cream options to help keep you cool. Savor your dream dessert made with local ingredients and artisan flavors. Or turn to a local classic for a nostalgic blast from the past. Either way, you can't go wrong with Portland's best ice cream spots!
comments
comments