Why Did Food52 Just Buy Dansk?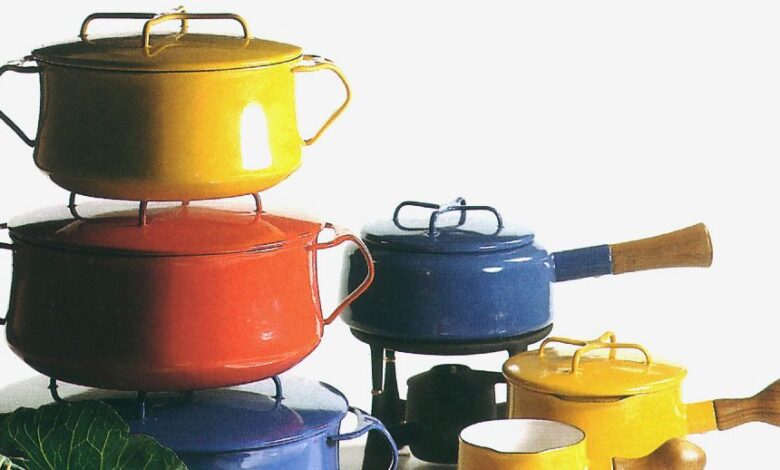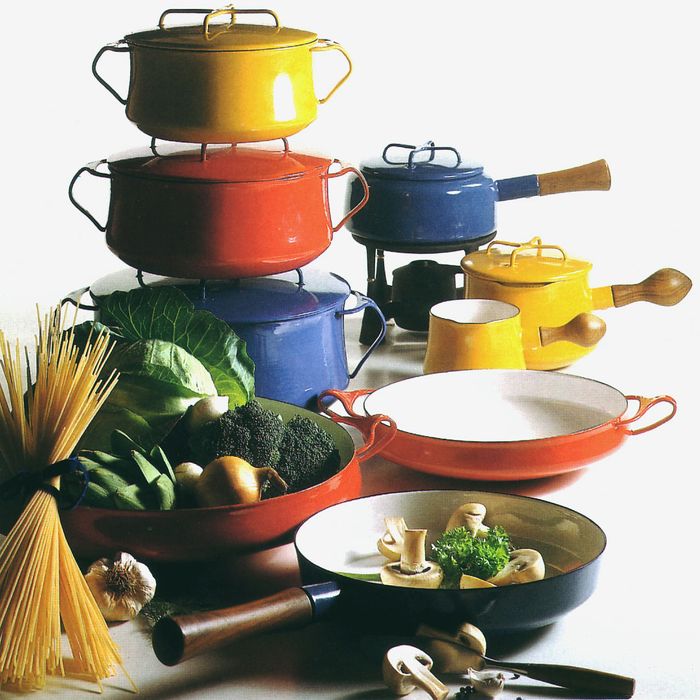 A vintage view of Dansk's Kobenstyle line, introduced in 1955.
Photo: courtesy of Dansk
Back in what we now call "mid-century modern," Dansk Designs was one of the most successful early importers of Scandinavian design. It populated countless American homes with elegant tableware and other furnishings, many of which were the work of great Danish designer Jens Quistgaard. (The company itself was more of a distributor and enabler than a traditional design studio; it was founded and headquartered not in Copenhagen but in Mount Kisco, New York.) It was neither Ikea-bon neither market Alessi-cher; its products lived in a mid-price niche that was high end but not elite, oriented towards the connoisseur rather than extravagance. You would see Dansk cutlery (bearing its tiny stamp of the Quistgaard monogram, IHQ) on the unadorned slab tables of college professors in New Haven or copywriters in Greenwich Village.
Since the early 1990s, Dansk has been a subsidiary of tableware giant Lenox. This week, the Food52 site, a Dansk reseller for a few years, announced to have bought the brand and intends to expand it with reissues and new designs. Last night I spoke to Amanda Hesser, Founder and CEO of Food52, about her plans. (When I called her, I had just finished having dinner on a Dansk plate, having served myself with a pair of Dansk Variation V utensils from the 1960s.)
You must hear from older customers: At one time, anyone who was interested in design in this country had a relationship with Dansk's products.
So many people have a connection with Dansk. And I have to say that today I was really bowled over by the number of people who commented – you know, old friends, people I would never have thought of knew about this brand that felt a connection with she, grew up with it.
Were you one of those people who grew up with it?
I did not do it. It was something that I discovered after going to college, and so for me, it symbolized adulthood and a more sophisticated lifestyle. When I met my husband and we went to his parents' house, we could instantly spot Dansk's pieces in the kitchen. For me, it was an ambitious brand, incredibly cool and modern, and I really, really fell in love with it. I spent one of my first adult paychecks on Dansk.
What did you buy?
Jens Quistgaard Odin salad servers – they look like two very elegant legs – and small candlesticks and very thin candles that, essentially, only Dansk has sold. And I cherished the candles so much that I never burned them – I still have the candles, 25 years later. Like "I don't want to be able to put them back together." They were so special, I just used them to watch them.
So that raises a question, that this brand has such a long history that it would be easy to treat it as a game of nostalgia. But in the ad you said you were going to order new things. You will move it forward.
Yes. There are three components to the products we would like to launch. The first is, you know, their existing assortment: there are pieces that we think have great potential – we could expand the colors, maybe change the materials in some cases, add a few different sizes. It is just possible to make the existing assortment even more useful and complete. Then there's this incredible archive of over 2,000 designs – many amazing designs that just fell out of public consciousness for one reason or another that we're going to want to bring back. And in fact, we hope that one of the ways that we hope to guide us is, we ask people on our social networks to take pictures of their favorite Dansk pieces and tag us so that we can watch them.
The third piece is what you were referring to: we think the beauty of Dansk is that timelessness and the fact that it was a brand that really stood for great design and to celebrate great designers – and not always designers who were. obvious. Like, one of the designers they worked with was this woman named Vivianna Torun Bülow-Hübe, renowned silversmith and jeweler. But they ordered her and she made a lot of different pieces – a beautiful tea set, things that were a bit out of her comfort zone.
When you take a great designer and ask them to sort of address the house, we think there's just a great opportunity for some great things to come out of it. And obviously Dansk was very focused on Danish designers, but there are some amazing designers in the world, and I think there is a way to celebrate them through Dansk.
You mentioned archive designs – are there actual physical archives? In Denmark or elsewhere?
It's in Pennsylvania, where Lenox is. I went there last summer. It's not digitized – it's these giant sets of technical product drawings that are in the architect's drawers. And then they have a room that has old catalogs and some older pieces. It is quite amazing. A bit of a time capsule.
Do they have a piece with every piece ever made? Like a museum?
They don't really do it – I wish they had. We may need to assemble one ourselves. I mean, it would take a really big room, because there was a parcel Dansk products over the years. They even made furniture, which a lot of people don't know.
Is that so? What was the furniture like?
Very simple, as you can imagine [laughs] – I only saw pictures of a few rooms. But they made textiles; they did a lot of different things. They really explore the house with a lot of breadth, as few brands do. It's a different kind of exciting piece of this – we could take something like furniture and run with it.
One thing that always struck me about Dansk was that they really ran the gamut in terms of materials – not just obvious things like stainless steel, but also teak, black cast iron, all of them. kinds of things.
Yes. They made a lot of tropical timber, bamboo – really, it's not like any other brand did that back then, but they were certainly early in making it more of a commercial business.
This is another thing about Dansk: they have been commercial, by which I mean the stuff was a bit high end but it wasn't terribly expensive.
That's right. Of course, they had pieces that were, I guess, what you would call a capsule collection today. But yes, it was really meant to be a great design made accessible. And that's another thing that speaks to us. It is very similar to the way we see the world.
It's super contemporary. A lot of people see the world this way now.
Innovative.
Do you feel like Lenox was – I don't mean letting the brand languish, but maybe they weren't doing all they could?
You know, they have a lot of other brands under their umbrella. And so I think they were doing what they could, given that there were other brands that were frankly bigger and naturally would have more focus. We need to do a general assessment of what's out there and really understand the sales numbers, understand the production challenges or opportunities.
I wanted to ask you about a specific product, something that I had never heard of until relatively recently. In the 1970s, Dansk made a line of copper pots with brass handles and a table top burner, with a separate teak handle that snaps on for serving. It was a drawing by Jens Quistgaard – his name was Quistgaard's Copper – and he just looks wild.
Oh my God. There are a number of collector's markets – there is one site that is all about its pepper mills! I learned this today. [pauses to Google] Oh, I see the copper you're talking about – oh my God. That's great. So interesting. It's a nice handle, eh? Really, really cool. It is not something that I have encountered. Do you have a set?
I did, but I don't have it anymore. I sold them to a collector.
Dang. I was just going to try to chain you down to send me pictures. [Laughs]
Who are the biggest sellers in the Dansk line these days? I mean we see a lot on the Kobenstyle pots – what's still moving?
We have this line of everyday plates, Kisco – they're currently out of stock – incredibly reasonably priced, and they fly off the shelves every time they come back in stock. It's those beautiful natural colors, simple shapes. I don't think it's an old-fashioned design – it's one of their more modern designs – and clearly meant for everyday use. Cheap: you get as a full set for under $ 200.
Is there something you spotted in the archives that you are passionate about?
There is a teak bowl in the shape of a large canoe which I found on a very nice vintage home goods site. It's so gorgeous and gorgeous, but I had never seen it before. It seems like something we could do a lot with. There are some pot shapes that I think are really cool and have really interesting handles – just really stylish. I don't know what materials they were made of, but it would be really great to make. And then a cast iron version of one of their dutch ovens from the archives, or something like Kobenstyle.
With that cross-shaped handle on top? It would work.
Yes. But now I have suddenly become obsessed with copper, thanks to you.